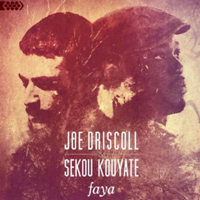 Joe Driscoll and Sekou Kouyate
Faya (Cumbancha, 2014)
Due to the ubiquitous use, and sometimes overuse, I imagine that there's some record exec sitting behind a desk somewhere looking at a musician and saying, "What you need is a rap artist." Okay, all you rap fans or record execs don't get your knickers in a knot because I recognize that the music business is just that – a business. And, rap happens to be the current trend. I don't have anything against rap; in fact I often find it a powerful means for personal and societal commentary. Who doesn't love a good rant set to music? But I sometimes feel that the music itself falls by the wayside in favor of the rap. With emphasis on the rap, the music simply slips into a back beat with little musicianship other than a catchy beat or an endless string of lifted loops. Fortunately, Cumbancha got the mix just right with the combo of American rapper, beatbox artist, singer and songwriter Joe Driscoll and Guinean kora master Sekou Kouyate on their collaboration Faya set for release on February 18th.
The musical bridge built between the non-French speaking Mr. Driscoll and the little English Mr. Kouyate speaks makes this collaboration all the more amazing as the pair planned this recording and 120 date touring schedule. Bending rap, hip-hop, funk, soul, Afrobeat and reggae, backed by some spectacular African rhythms and Mr. Kouyate's stunning electric kora work, Faya cooks up a sound that allows both the rap or spoken word sections and the richness of the music to share the limelight.
Mr. Driscoll explains the collaboration this way, "We've been raised in very different cultures in so many ways, but we share a lot of the same interests musically. Sekou was raised in the African rhythm and traditions, yet has always had a passion for reggae, hip-hop. I'm kind of the other way around. At the heart of it, we both just make the noises we love; we listen to each other, and try to flow in harmony. I think we just bounced off each other in so many ways: rhythmically, melodically, with craftsmanship. Through this, we found we had a language between us and that philosophically we were on a lot of the same pages as well."
Mr. Driscoll and Mr. Kouyate burn up any differences on the sizzling opening track "Tanama," and there's nothing left for the listener to do but hold on against wave after wave of kora work and percussion that will have fans mesmerized. Equally good is the song/rap infused "Passport" and dishy funk laced title track "Faya." Fans get the feel good bass soaked "Lady," the French/English blend of "Ghetto Mary" and kickass rap ride of "Wonamati." "Zion" and the reggae slick bonus track "Faya (Gentleman's Dub Club Remix)" make the most of the utter coolness of this collaboration.
Faya crosses cultures and musical styles with a righteous ferocity.
Buy Faya
Author:
TJ Nelson
TJ Nelson is a regular CD reviewer and editor at World Music Central. She is also a fiction writer. Check out her latest book, Chasing Athena's Shadow.
Set in Pineboro, North Carolina, Chasing Athena's Shadow follows the adventures of Grace, an adult literacy teacher, as she seeks to solve a long forgotten family mystery. Her charmingly dysfunctional family is of little help in her quest. Along with her best friends, an attractive Mexican teacher and an amiable gay chef, Grace must find the one fading memory that holds the key to why Grace's great-grandmother, Athena, shot her husband on the courthouse steps in 1931.
Traversing the line between the Old South and New South, Grace will have to dig into the past to uncover Athena's true crime.