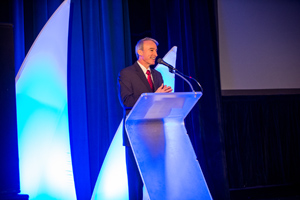 "The theme for the 2014 APAP conference is 'SHINE', and our intent is to shine a light on the work of the professionals in the performing arts presenting field. It is the time for our industry to take center stage – to propel our creative energy into the communities we serve, across America and across the globe, and to communicate our value as innovators and entrepreneurs for bringing people together and improving their quality of life." – APAP CEO and President
Just as the bite of the polar vortex lifted here in New York City, thousands of members of the Association of Performing Arts Presenters (APAP), from all over the world arrived for its annual 2014 conference, January 9 -14. The catalytic role the conference fulfills in the performing arts industry makes the city spring to life with a whirl of events and showcase concerts. One must be nimble with focus and stamina to take in the daily conference tracks, visit the overflowing expo hall booth exhibits to sample talent agents' roster offerings, and dash to showcases that stretch long into the night.
The levels of energy and excitement were intense this year, balanced by APAP CEO and President Mario Garcia Durham's enthusiasm, warmth, and calming presence as he presided over plenary meetings and happily greeted colleagues. Standing ovations over the course of the meetings were the barometer of yet another highly popular conference. We wonder sometimes, what other event could bring on such energy in this city to start the New Year?
Noteworthy APAP Events:
Dmitri Vietze, the world music publicist charged with organizing the 2014 APAP world music preconference tracks, gathered several leading personalities in the field for a series of lively, free to the public sessions. They were intended to expand the conversation from the business of presenting to other areas of the music business: internet music streaming, licensing for television and film, and grant making.
The thought-provoking discussions highlighted practical recommendations, developments and challenges for the world music vanguard. Featured speakers included representatives from 'Fela! The Musical', the Kronos Quartet, the U.S. Department of State, the National Endowment for the Arts, the Smithsonian Folklife Center, the Kennedy Center, Festival International, the New York Times, SoundExchange, Pandora, Eye for Talent Agency, Fli Artists Agency, and Cumbancha Agency.
One of the panels "Artists as Civic Leaders" featured Mário Lúcio Sousa, the Minister of Culture of Cape Verde who pitched his Atlantic Music Expo,; a presentation by Mina Girgis, Executive Director of the Nile Project nileproject.org; and the artist Martha Redbone, whose articulate advocacy of Native American cultural heritage is a subject we expect to hear much more about through her sense of purpose.
Praise is due to Dmitri Vietze and his Rock Paper Scissors publicity firm for compiling the useful recent free download publication, WorldMusicBook.com, the North American World Music Directory that includes over 200 world music festivals, venues, and presenters; over 70 booking agents and record labels; interviews with key presenters, agents, and visa experts; and a heat map showing which cities have world music presenters.
The APAP Awards Luncheon held the surprise appearance of Vijay Iyer, jazz pianist, composer, bandleader, producer, electronic musician and writer, and a recent recipient of the 2013 MacArthur 'Genius' Awards. He presented the William Dawson Award for Programmatic Excellence and Sustained Achievement in Programming to Harlem Stage's Executive Director, Pat Cruz, and Director of Programming, Brad Learmonth.
As Pat Cruz expressed her delight with Vijay's unexpected presence, she praised his past performances at Harlem Stage, for, with his South Asian heritage, his artistry epitomizes the abiding mission of Harlem Stage: to support and advocate artists of color. They are, she affirmed, underrepresented in the presenting world. Vijay's introductory speech itself was poignantly moving as he paid homage to the late Amiri Baraka and spoke of the quest for 'Truth and Beauty' in the arts. Vijay Iyer returns to Harlem Stage this spring with his trio, May 9, 2014.
APAP's featured 2014 plenary speakers were: Diane Paulus, Zachary Quinto, Stephen Schwartz, Abigail Washburn, Baratunde Thurston, and Taylor Mac.
At the Closing Plenary, the Olivier Award-winning actor, Fiona Shaw, transformed a breakfast meeting into a celebratory feast of theater and literature. With her charm, bonhomie, and wit – and impromptu style and delivery – she riveted her audience. She summoned the spirits of William Butler Yeats, Seamus Heaney, and T.S. Eliot as she wove lines of their poetry into a spoken-word tale of her life and art. Amusing anecdotes about her strong-willed, unconventional mother allowed glimpses into the origins of the actor's brilliance.
Currently, Ms. Shaw is directing Eugene Onegin at the Metropolitan Opera, and will bring The Rime of the Ancient Mariner to BAM in December. Among international audiences, she is most well-known for her roles as Petunia Dursley in the Harry Potter films and Marnie Stonebrook in True Blood.
Some New Developments with Colleagues:
In April, 2011, the New York Times ran the article, "New York's Pioneering World Music Impresario Announces His Retirement". Ben Sisario wrote, "Since 1985 there have always been two things you could count on at a World Music Institute concert: stirring traditional sounds (and dance) from a faraway corner of the planet, and a dry yet thoughtful introduction by Robert Browning, the institute's founder and executive director…. Fellow arts presenters, musicians and critics are unanimous in praising his efforts to help spread the cause of traditional world music nationwide." However, now, after a restful break, the eminent Mr. Browning has resurfaced and is returning to the presenting world, he announced, when we ran into him and Helene Browning, former World Music Institute PR Director, during APAP. Here is his new website with the dates of upcoming concerts: robertbrowningassociates.com.
Gerald Seligman, international music professional, has described below the tasks and responsibilities in his appointment as the new Executive Director of the National Recording Preservation Foundation, through the U.S. Library of Congress, recordingpreservation.org.
Our Mission Statement: The National Recording Preservation Foundation: To help find, preserve and make accessible the recorded history of the United States. Music, broadcast, speeches, spoken word — Saved for all time.
Our Task: We are charged with looking over the entire nation's recorded heritage – its music, broadcast, speeches, spoken word – in short, everything ever committed to a recordable medium. We develop strategies, help coordinate policies and, most importantly, help fund the preservation of The Sound of America.
Through grants, projects and partnerships, the Foundation is poised to make a difference. And to make the wealth of our cultural and historical treasures accessible to the broadest possible public.
With the help of our Board and contributions from private individuals, corporations, foundations and the U.S. government, we take up the race against a ticking clock.
Christine Semba, Berlin-based Director with the WOMEX Consultancy and Special Projects attended this year's conference. While the annual European world music expo, WOMEX, is held traditionally in a European country, she summarized during a brief interview, the organization has, over the years, received requests to bring their event to other regions of the world. This interest in the WOMEX model by countries outside of the European Union concerns their needs to stimulate cultural tourism and international interest in local musical diversities. In order to meet this demand, WOMEX is serving as consultant to regional world music expos including Brazil's Recife Porto Musical conference, Cape Verde's Atlantic Music Expo, and just announced during APAP, Beijing's Sound of the Xity.
Around Town, Showcase Concerts:
The value of collaborations in the presenting industry cannot be underestimated is the gist of what Michael Orlove, NEA Director of Artist Communities, Presenting and Multidisciplinary Works, and International Activities, observed during one of the APAP pre-conference sessions. Three of New York's festivals continue to pursue the collaborative approach with impressive results: SummerStage, Winter Jazzfest and globalFEST.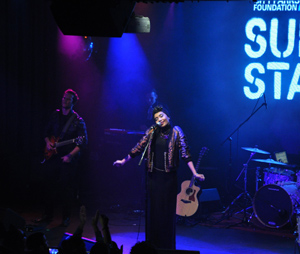 In calendar order, January 9th, we caught the SummerStage preview showcase, a collaboration with west coast presenter, the Santa Monica Pier Twilight Series. Out of the three acts, Yuna, Hurray for the Riff Raff, and Rebel Tumbao, Yuna was the show-stopper. Word of her appearance among the Malaysian, South East Asian, and South Asian community demographics of New York must have spread fast. Many of her fans were ready and waiting for her in the Highline Ballroom that night. An electric current shot through the room when she stepped on stage. A beautiful pop singer from Malaysia, with a stately, graceful stage presence, her vocals carry occasional echoed phrasings reminiscent of a Suzanne Vega – and in some of her backing band rhythms, the barest hint of the gentle pattering found in Malaysian gamelan. Her new album in English, "Nocturnal", has been released with promotions by Giant Step and it's a fine one. What's wonderful and surprising about her peaceful aura may emanate from her Muslim faith. Yet, the ache, longing, and sultriness in her love songs are beguiling.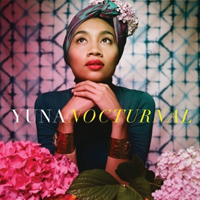 Winter Jazzfest celebrated its 10th anniversary on January 10th and 11th, along with kick-off events, January 7-9. Brice Rosenbloom and his team pulled out all the stops for the occasion. What started out as an APAP-related jazz showcase a decade ago in the former Knitting Factory single venue on Leonard Street, Winter Jazzfest has grown and is growing exponentially. Once again this year the festival expanded throughout several venues in the Bleecker Street neighborhood – including NYU Law School and the Judson Church. It was on that street at the Village Gate, now reincarnated as Le Poisson Rouge, that the late jazz impresario, Art D'Lugoff created a whole era of downtown jazz starting in 1958. In his spirit, Winter Jazzfest has now become a dominant jazz force in the city with a fresh, new vision. The 2014 edition welcomed over 7,500 attendees during the events.
Scores of artists, luminaries and younger emerging ones participated in the marathon festival: 93 showcase concerts over two nights is a breathtaking programming achievement that comprised many different styles, whether straight-ahead classic, experimental, world, Latin, rock, rhythm and blues, and DJ club mix. Although impossible to see everything, one is drawn by instinct to what one likes, or, word of mouth. Out of several acts we saw, these were the cream.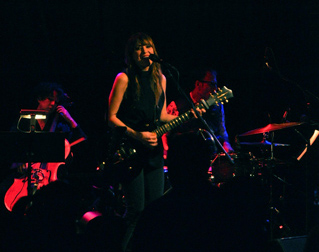 Poisson Rouge, January 11:
About seven years ago, Keren Ann's song "Ailleurs" had the sweet charm of an "Umbrellas of Cherbourg" soundtrack, but she's emerged in a tougher, feisty way. During her showcase, her assertive rocker persona came across as if channeling an intense female Lou Reed. She wore a sleeveless tee-shirt and black skinny pants and slung her guitars like a guy, but the feminine appeal is still there in her voice. Her guitar work was rock-jazz-blues, backed by piano, keyboards and drums with added complexity and depth by a string quartet.
Drummer Jeff "Tain Watts" and guitarist Lionel Loueke came together as a duo riffing back and forth together. The musical dialogue between a superb drummer known for his work with the Marsalis brothers and the Benin-born guitarist with West-African highlife in his soul was a joyful encounter. The entire room seemed to smile along with them.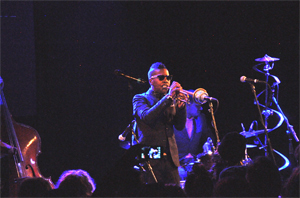 The Roy Hargrove Quintet was the last set and the scope of their perfectly calibrated, progressive yet classic sound was as big as his big band. The members were Mr. Hargrove on trumpet, Justin Robinson – sax, Ameen Saleem -bass, Sullivan Fortner – piano, and Quincy Phillips – drums.
Each member was nattily dressed and Mr. Hargrove moved around on stage constantly, taking stage center to play his trumpet and sing or move to the rear stage as his group played on to his cues. Clearly in the jazz firmament, it's his strut and self-assurance that are part of the musical enjoyment.
January 12: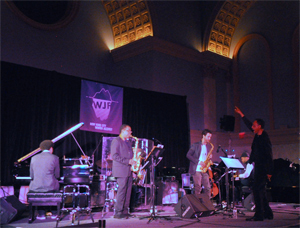 Henry Threadgill was conductor of his composition, "Ensemble Double-Up" in Remembrance of Lawrence Butch Morris at the Judson Church, an almost hour-long tribute to Mr. Threadgill's friend who died last year. Known as a sax and flute player, Mr. Threadgill is also a formidable composer, as his concert proved. He would often sit on a stool at side stage while the band developed the two-part improvisational suite: the first movement, a brooding lament, and then a shift in tonality and rhythm in the second movement, as the piece tilted and opened up towards a majestic, celebratory light. And then occasionally, he would stride across the stage to lead the band with his rhythmic, energetic style, thrusting his arms and hands, and signaling tempo and crescendos.
The stellar musicians included Jason Moran – piano, David Virelles – piano, Curtis McDonald – alto sax, Roman Filiu – alto sax, Christopher Hoffman – cello, Jose Davila – tuba, and Craig Weinrib – trap drums. The performance was a tour de force, a sound and sight to behold.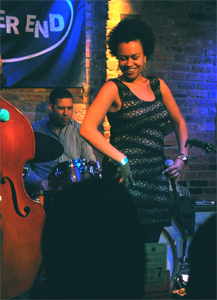 The Ethiopian American singer, composer, and guitarist, Meklit, is a shining star to watch live. Known for her 'genius' intelligence she has completely transformed herself in stage delivery and presence over the past few years. While her last album held the charm of a promising newcomer, we need no more convincing now about her undeniable power.
As we watched her dance and shimmy, sing, croon and coo with her quivering vocals at the Bitter End, it was as if seeing a Dorothy Dandridge, Josephine Baker, and Eartha Kitt all rolled into one Meklit. She sang songs from her new album to be released this spring, in English, with one good crowd pleasing sing-along in Amharic. Her band, trumpet, bass, and drums, was spare as they accompanied her on acoustic guitar.
globalfest is one of the most seriously fun world music festivals – in the world. This year the collaborative trio producers, Bill Bragin, Isabel Soffer, and Shanta Thake, packed sold-out Webster Hall with some outstanding acts, often exhilaratingly positive. Here is what we liked especially.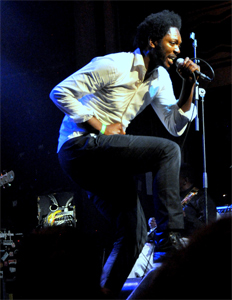 The top ballroom floor brought on visual and aural splendor in many forms. The Congolese Baloji had the "no one needs to feel sorry for Africa Fela" attitude in his act. The floor was a dance Africa fete all the way. The way he twists classic Congolese rumba with hip-hop, spliced with 60's soul is an innovative feat unto itself, but it's his joie-de-vivre and stage antics that captivate and entice at first. You may not understand the Lingala, but you can feel the sting and conviction in his rapping. What will be his ultimate message in his next album?
The Romanian Fanfare Ciocarlia Roma band caused momentary concern that all the stomping dancers might cause the ballroom floor to collapse under us, but their infectiousness was irresistible, drawing everyone into their sphere. Dressed in a blaze of red shirts whose blast of color seemed to amplify their gleaming brass band instruments, theirs was a huge community village party transporting the frenzied dancing audience with Gypsy soul and merriment.
DakhaBrakha, the Ukrainian group, billed as "subversive folk punk" had already conquered European festivals and clubs as well as WOMEX last year, and so their reputation preceded their globalFEST appearance, another triumph. The quartet is as haunting as an eerie dream with a mix of instruments that could have dissolved in incoherent fusion, but through the beauty and drive of their coordinated polyphonic singing, the sound works very well.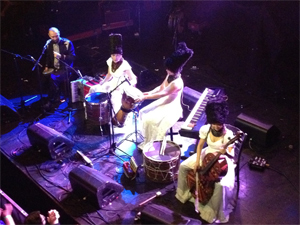 The multi-instrumentation embellishes, graces, and underscores but never overwhelms: the lone male vocalist plays the darbuka, tabla, didgeridoo, accordion and trombone; the three women vocalists who wore tall black Cossack hats played African djembe, bass drum, a Ukrainian friction drum, percussions, pipes and piano, Russian accordion, and cello. Their repertoire is based on Ukrainian folk music and this is their mission: to make known what is Ukrainian music, since, they state, "the Ukraine did not exist for over 300 years on the political and cultural map."
In the Marlin Room, Mauritania's Noura Mint Seymali held the room in thrall. She is the stepdaughter of the late Dimi Mint Abba, and the daughter of Seymali Ould Mohamed Val, a revered scholar-musician, all descendants in a prestigious lineage of griots.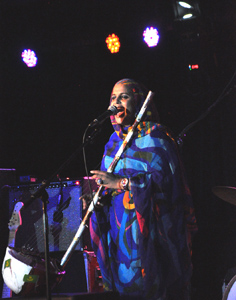 Already known as a young diva in Africa, her globalFEST appearance was bracing with the bold declamatory voice of a great traditional female griot. However, as part of the newer generation of griots, her modernizing style favors the reverb-echo amplification of the DJ trance space or Jamaican dancehall. She played the women's electrified ardine and was backed by electric guitar, bass and drums. Her songs are about love, women in society, and the Prophet Mohamed.
As we stepped into the Studio Room, strands of romantic Mexican Mariachi serenade music were prompting couples to lock in embrace mid-way through the final set of the evening by Sergio Mendoza y La Orkesta from Arizona. But soon enough, the mood changed as the band's horn section shifted gears and a rousing mix of Mexican cumbia and mambo had the room bobbing and stamping. The amorous-voiced singer, Salvador Duran, wore Cuban-style ruffled sleeves and shook his wands of rhythm, the maracas. He could make any woman sigh.
And so it was once again that during the APAP Conference, the globalFEST showcases and Winter Jazzfest and SummerStage produced exultation among myriad music fans, in happy anticipation of the New Year to come.