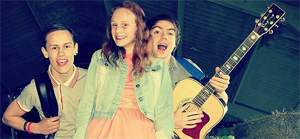 The winners of this year's Danny Kyle Open Stage at Celtic Connections 2014 were announced today in Glasgow. The artists performed in the finale concert this evening (Saturday, February 1st) at Adelaides on Bath Street, before being presented with their awards.
The six winners of this year's edition of Danny Kyle Open Stage are:
Hò Rò
Hò Rò are a young and energetic Scottish traditional/folk trio from Inverness who bring traditional Scottish music and Gaelic folk songs together and put their modern stamp on it.
Hò Rò are: Calum MacPhail, Lucy Dooogan, Crisdean MacDonald and Sean Cousins.
Griogair Morrison
Guitarist Griogair Morrison is only 16 years old and comes from Orkney. He is a young finger-style and percussive guitarist arranging, writing and composing his own tunes from funk, blues, jazz and rock and was a winner at the Orkney Folk Festival Open Stage 2013. He has been busy developing his YouTube profile and gigging locally.
Griogair indicated that his main influences are Andy McKee and Don Ross.
Griogair will also be performing at his own local Orkney Folk Festival in May 2014.
The Mischa Macpherson Trio
The Mischa Macpherson trio is from Glasgow but the members originally come from the Highlands and Islands of Scotland.
Mischa, Conal and Innes grew up surrounded by music and the Gaelic tradition. They all studied at the National Centre of Excellence in Traditional Music in Plockton, Wester Ross and came together in 2011 at the Feis Rois International Ceilidh Trail.
Mischa is currently a student at Sibelius Academy in Helsinki.
The trio features Mischa Macpherson, Conal McDonagh and Innes White.
The Chaplins
The Chaplins are from Paisley and were formed in 2012. The band members are all accomplished musicians in their own right. When they come together they have a characteristic quirky alternative and unique bluegrass sound, culminating with Jill's songwriting, have meant that their debut EP released in 2013 was met with critical acclaim.
The Chaplins are Jill Jackson, John Allan, Lisa Tring and Johnny McKinnon.
Arthur Nicholson
Arthur Nicholson has been heavily involved in the Shetland music scene from an early age. He released his first single in March 2013 and has just completed his own CD.
Arthur also plays in a number of bands including First Foot Soldiers, Muddy Bray, Deep Sea Rollers, Spoot Hawk and North Country Fair – to name but a few.
Austen George
Austen is a gifted young singer songwriter who has played in several bands including his own The Alvas.
Honing his craft over the years as well as seeking a solo career, Austen has gigged extensively throughout Edinburgh and is currently seeking a record deal.
Austen is also a qualified stained glass artist and so fittingly his songwriting has been described as the following "like stained glass, his songs seem to have an ethereal quality, lyrically vivid and colorful."
Every year at Celtic Connections the cream of new musical talent perform at Danny Kyle's Open Stage. A diverse panel of judges – from industry representatives to members of the general public – then have the unenviable task of picking just six winners from the fifty five acts who took part.
Author:
World Music Central News Department
World music news from the editors at World Music Central