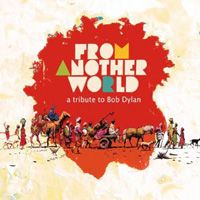 Various Artists
From Another World A Tribute to Bob Dylan (Buda Musique, U.S. release: 2014)
Music is a tricksy, crafty art. Don't let anyone tell you differently. Its ability to travel around the globe without any more intent than to catch another person's ear or to get the body and mind to move as one makes music one of the few arts which can turn human nature inside out. Music holds love, sorrow and anguish. It can turn us into lovesick puppies, anguished shades or dancing fools, sometimes by turns or all at once. But it is music's nomadic life that constantly amazes. A simple tune, a hummed phrase or a catchy bit of lyrics can travel the globe with such ease and transmit that inexpressible quality that speaks to the human condition makes music the perfect nomad.
Perhaps one of the best known of the nomads of recorded music has been Bob Dylan. With more than five decades of playing, performing, recording and touring Mr. Dylan has been a jumping off point for many musicians from around the globe. Chalking up tribute recordings like Chimes of Freedom: The Songs of Bob Dylan, Tangled Up in blues: Songs of Bob Dylan – this Ain't No Tribute, Listen to Bob Dylan: A Tribute Album, A Nod to Bob 2: An Artists Tribute to Bob Dylan on his 70th Birthday and the 30th Anniversary Concert Celebration just goes to prove Mr. Dylan's influence on music. Now, there's another tribute album for the world music fan. From Another World A Tribute to Bob Dylan is set for release on February 11th on the Buda Musique label.
Producer Alain Weber proves without a shadow of a doubt that music is translatable, transformable and highly potent with a collection of Bob Dylan songs that travel from Cuba to Egypt to India.
Mr. Weber explains, "I wanted people who were like Dylan, people with the same spirit, poets in their own culture. Some of them knew his music, others didn't. We translated the lyrics. It was vital that they could identify with the words, to feel the images and meanings."
From Another World dishes up treats like Eliades Ochoa's version of "All Along the Watchtower," India's Purna Das Baul and Bapi Das Baul's version of "Mr. Tambourine Man" and the sparely lovely "Every Grain of Sand" by Iranian singer Salah Aghili with lyrics by Sufi poet Rumi to this track.
There's also tracks like the quirky "I Want You" by the Burma Orchestra Saing Waing, the lovely instrumental version of "I Want You" by Trio Mei Li De Dao from Taiwan played on the Zheng cithara that is similar to the Japanese koto and the spectacular North African soaked "Man Gave Names to All the Animals by Sayfi Mohamed Tahar.
Macedonia's Kocani Orkestar offers up a raucous version of "Rainy Day Woman," but treats like "Jokerman" by Divana from Rajasthan, India and the Roma version of "Blowin' in the Wind" by Hungary's Kek Lang and some downright astonishing vocals are not to be missed. From Another World also includes a version of "Father of Night" by Australia's Aboriginal People of Yolingu of Yalakun.
Mr. Weber notes, "Some artist could reproduce the melody, some found it just too far away from what they know, so they ended up doing it their own way. That's what happened with the Aboriginal People of Yolingu of Yalakun Arnhem and "Father of Night." It's hard to hear Dylan's song in there, but it is. It's how they heard it. They live very much in nature and it's a celebration of ritual, the way the original is, and that's what I wanted, to have the spirit of the songs. I wanted to hear the artist themselves in the songs. To simply do straight covers would just be artificial."
There might be a few songs on From Another World where you might have to listen a little harder to find Bob, but that is the nature of music and its nomad's journey. From Another World offers up Bob Dylan bazaar with all its dark corners and its tricksy turns.
Buy From Another World A Tribute to Bob Dylan
Author:
TJ Nelson
TJ Nelson is a regular CD reviewer and editor at World Music Central. She is also a fiction writer. Check out her latest book, Chasing Athena's Shadow.
Set in Pineboro, North Carolina, Chasing Athena's Shadow follows the adventures of Grace, an adult literacy teacher, as she seeks to solve a long forgotten family mystery. Her charmingly dysfunctional family is of little help in her quest. Along with her best friends, an attractive Mexican teacher and an amiable gay chef, Grace must find the one fading memory that holds the key to why Grace's great-grandmother, Athena, shot her husband on the courthouse steps in 1931.
Traversing the line between the Old South and New South, Grace will have to dig into the past to uncover Athena's true crime.