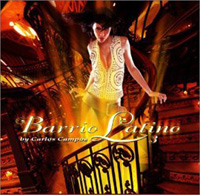 Various Artists, compiled by Carlos Campos
Barrio Latino 3 (George V)
Latin sounds absolutely sizzle on the dancefloor, and this double CD by DJ Carlos Campos is magnificent, though the stiff pricetag may make many a listener blink twice. The two CDs pack over 30 tracks of Latin motion. CD One, aptly titled Sweet Life, is our favorite. It opens in fine style with Gracias a la Vida by Stereodrome. Another fine track on this disc is La Vida Como Es by Jimena Diaz.
CD Two is called Latin Nights, but is somewhat disappointing. The overall sound is one of generic house, with much less Latin flavor. Still, we recommend No Se by Leo Cuenca and House of Yemaya by Sin Palabras.
Buy Barrio Latino 3
Author:
Madanmohan Rao
Madanmohan Rao is an author and media consultant from Bangalore, and global correspondent for world music and jazz for World Music Central and Jazzuality. He has written over 15 books on media, management and culture, and is research director for YourStory Media. Madan was formerly World Music Editor at Rave magazine and RJ at WorldSpace, and can be followed on Twitter at @MadanRao.