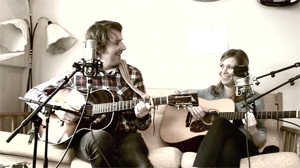 Norwegian folk music artists Ingebjørg Bratland, Odd Nordstoga and Moddi are the winners of this year's edition of Spellemannspris, the top music awards in Norway. The award ceremony took place last weekend at the Stavanger Concert Hall.
The album Heimafrå by Ingebjørg Bratland and Odd Nordstoga won in the Traditional folk music category. Moddi's Kæm va du? album won in the Folk category.
A total of 23 awards were presented to Spellemannspris recipients with veterans Anne Grete Preus and Ole Paus receiving the evening's most prestigious prizes; respectively the Honorary Award of the Year and Spellemann of the Year awards.
Full list of Spellemannspris 2013 winners:
Children's music: Tullskattesnutene – "Vi vil ut på byen"
Blues: Gina Aspenes – "Inertia"
Country: Bendik Brænne – "How To Fake It In America"
Dance orchestra/schläger: Hanne Mette – "Minner"
Elektronica/EDM: Ralph Myerz – "Super Sonic Pulse"
Traditional folk music: Ingebjørg Bratland and Odd Nordstoga – "Heimafrå"
Indie: Young Dreams – "Between Places"
Jazz: Karin Krog & John Surman – "Songs About This And That"
Classical: Oslo String Quartet – "The Schubert Connection"
Composer of the Year: Oslo Philharmonic Orchestra, Rolf Gupta, Gjermund Larsen – "Lars Petter Hagen"
Metal: Kvelertak – "Meir"
Pop group: Real Ones – "Tonight Only Tonight / The Morning After"
Pop soloist: Monica Heldal – "Boy From The North"
Rock: King Midas – "Rosso"
Contemporary: Christian Wallumrød Ensemble – "Outstairs"
Lyricist of the Year: Frida Ånnevik – "Ville Ord"
Urban: Don Martin – "En gang Romsåsgutt alltid Romsåsgutt"
Folk: Moddi – "Kæm va du?"
Open Class: Susanna and Ensemble neoN – "The Forester"
Hit of the Year: Ylvis – "The Fox"
Newcomer of the Year – Gramo Scholarship Recipient: Monica Heldal – "Boy From The North"
Honorary Award of the Year: Anne Grete Preus
Spellemann of the Year: Ole Paus
Author:
World Music Central News Department
World music news from the editors at World Music Central