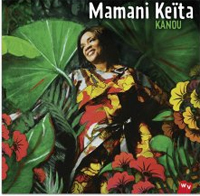 Mamani Keïta, one of the leading vocalists of Mali has a new album titled Kanou (World Village) scheduled for release February 11, 2014. Kanou means 'to love' in her native Bambara. The album features self-penned songs.
In the title song, Mamani Keita sings about loving your partner "more than silver and gold". She conveys her support to the children of the Earth on "Dougalé" and an ode to hope on "Djigihia". Mamani Keïia cites the figures and mentors who have directed her through music and through life on "Deliko" and challenges the world's leaders to carry out their responsibilities in "Anissu"and "Dounia".
Mamani Keita has collaborated with Dee Dee Bridgewater, Hank Jones, Eric Legnini, Tama, Check Titiane Seck, and others. After Electro Bamako (2002) devised with Marc Minelli, Yelema (2006) and Gagner l'argent français (2011), both produced with Nicolas Repac, Keita leaves the electronic, jazz and rock arrangements, allowing her vocals to interweave with the the ngoni of virtuoso Moriba Koita and the guitar of Djeli Moussa Kouyaté of Bamako Rail Band fame.
Buy Kanou .
Author:
World Music Central News Department
World music news from the editors at World Music Central