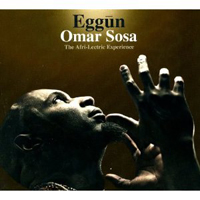 Omar Sosa
Eggun The Afri-Lectric Experience (Ota Records, 2013)
Musician, composer and arranger Omar Sosa has wowed fans with such releases as Alma, Calma and Across the Divide: Tale of Rhythm & Ancestry, but his 2013 release of Eggun The Afri-Lectric Experience emerged from a 2009 commission performance from the Barcelona Jazz Festival to commemorate the 50th anniversary of Miles Davis's stellar recording Kind of Blue. Using that impetus to allow Eggun to emerge, Mr. Sosa, along with fellow musicians from his Afri-Lectric sextet has fashioned the sizzling collection of tracks that is now up for Best Latin Jazz Album at the 56 Grammy Awards set for January 26th.
Eggun The Afri-Lectric Experience isn't in any way a remake or even a tribute album in the strictest sense. Culling impressions and tones from Kind of Blue, as well as paying tribute to Bill Evans, Mr. Sosa's flash of brilliance comes with a heavy dose of African influences and Afro-Cuban and Afro-Venezuelan rhythms in music that speaks of Miles Davis but without coming across as a remake or reinvention of Kind of Blue. Mr. Sosa works his magic with Mr. Davis the same way the dreaming mind works over the day's events with unexpected surprises and filamentous connections. The results are a heady mix for both jazz fans and those world music fans unable to resist that addictive thread that runs through Afro-Cuban jazz and African-inspired music.
Composing, arranging and playing piano, Fender Rhodes, electronics, samples and vocals, Mr. Sosa has teamed up with a first-class set of musicians for Afri-Lectric Sextet that include Marque Gilmore on acoustic-lectric drumz, EFX programming and drum loop production; Childo Tomas on electric bass, kalimba and vocals; Joo Kraus on trumpet, flugelhorn and electronic EFX, Leandro Saint-Hill on alto saxophone, clarinet and flute and Peter Apfelbaum on tenor, soprano, bass saxophones, melodica and caxixi. Adding to Eggum's sound are guest artists electro-acoustic guitarist Lionel Loueke; guitarist Marvin Sewell; Afro-Cuban percussionist Pedro Martinez on clave, chekere, waterphone, paderetas, tambora, guiro; quijada player John Santos; and Afro-Venezuelan percussionist Gustavo Ovalles.
Armed with silky piano lines, aching brass lines and enough delicious percussion to wallow around in until your fingers get pruny, Eggun dives deep into Kind of Blue with the opening track "Alejet," the dreamingly lazy "El Alba" and the percussively rich "Interludio I." Mr. Sosa offers up electronic laced, expertly worked extensive tracks that come across fresh and full-bodied. Treats include the meaty workings of "Alternativo Sketches," "Madre Mia" and African infused "So All Freddie."
Equally good is the dazzling "Rumba Connection" with its bright brass lines and yummy Afro-Cuban percussion, as well the sweetly worked "Calling Eggun." Building up delicious grooves with brief stunning interludes, Eggun packs a punch in combining the cool blues of Kind of Blue, the organic roots of African and Cuban music with the edgy exotica of electronica and loops, where not one element overshadows another but where they co-exist together.
Omar Sosa live in Madrid (2013):
Smart, savvy and brilliantly worked, Eggun The Afri-Lectric Experience is a triumph.
Buy Eggun The Afri-Lectric Experience in North America
Buy Eggun in Europe
Author:
TJ Nelson
TJ Nelson is a regular CD reviewer and editor at World Music Central. She is also a fiction writer. Check out her latest book, Chasing Athena's Shadow.
Set in Pineboro, North Carolina, Chasing Athena's Shadow follows the adventures of Grace, an adult literacy teacher, as she seeks to solve a long forgotten family mystery. Her charmingly dysfunctional family is of little help in her quest. Along with her best friends, an attractive Mexican teacher and an amiable gay chef, Grace must find the one fading memory that holds the key to why Grace's great-grandmother, Athena, shot her husband on the courthouse steps in 1931.
Traversing the line between the Old South and New South, Grace will have to dig into the past to uncover Athena's true crime.