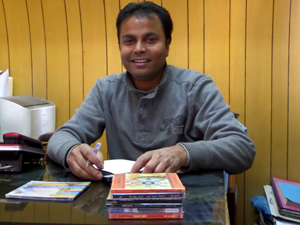 On a recent trip to Kathmandu to speak at a conference on creativity and entrepreneurship, I was delighted to meet up with Sachida Rauniyar, founder of Nepal's world music label SAC Music. His roster of musical groups includes Kutumba, Trikaal, Upendra Singh and Ani Choying Drolma.
The group Trikaal is prolific and has released a range of albums and online video recordings. The name of the band reflects the three tenses of time, or the era of the trio or trinity.
The founding trio is Navaraj Gurung (tabla, percussion), Santosh Bhackta Shrestha (ishraj or bowed harp) and Sujay Shrestha (guitar). They bring on board a range of other musicians as well for their album recordings and live performances, many of whom have been trained professionally in Hindustani classical music.
Featured musicians on the albums include Salil Kanika (didgeridoo), Nikhil Tuladhar (djembe, cymbals), Aman Shahi (gongs, singing bowl), Raman Maharjan (bamboo flute), Shanti Rayamajhi (ghatam; madal or Nepali hand drum), Shyam Sharan Nepali (sarangi; murchungra or mouth harp), and Subin Shakya (bass).
The lineup brings in folk sounds from across Nepal, smoothly blended to give a contemporary feel which appeals to listeners from around the world. The virtuosity of the musicians and their ease of playing with each other are showcased in fine style in every single track of their albums. Traditional melodies cross boundaries with jazz and Latin styles in their energetic performances.
Navaraj Gurung is sometimes referred to as the 'tabla tantric,' thanks to his prowess on the tabla. Navaraj draws on his family musical traditions; his father, Ram Hari Gurung, is a scholar of tabla and was a musician to the royal court of Nepal. Navaraj's other albums include Rhythmic Journey. See samples on YouTube:
Guitarist Sujay is adept in folk, jazz and Latin styles. Santosh Shrestha carries on the lineage of Guru Mohan Prashad. Sujay Shrestha is both a civil engineer and a musician, and blends local and Western influences of guitar.
Raman Maharjan hails from Kirtipur, a small Newari town in the southern rim of the Kathmandu valley; he learnt flute from his guru Mohan Prasad Joshi. Shanti Rayamajhi draws on the rhythmic influences of his village Bhojpur in the middle hills of eastern Nepal. Shyam Sharan Nepali learnt sarangi from his father and guru, Raw Sharon Nepali.
The Indo-Nepalese portal VideoChautari has two superb videos of Trikaal's live recordings, each over 30 minutes in length: one features the entire lineup of instruments along with Bijaya Vaidya on sitar (http://videochautari.com/videos/701/trikaal-live-in-concert) and the other includes Latin flavored sound with the didgeridoo (http://videochautari.com/videos/646/trikaal-live-in-concert). We look forward to future recordings by this outstanding group, and to interviews with the musicians as well!
Trikaal 1: Past, Present, Future
YouTube sample:
The six tracks of first album showcase the three founding members of Trikaal. The opening track Trikaal showcases the soulful ishraj, with guitar and tabla picking up towards the crescendo. Manamuskan begins with murchungra and guitar defining the rhythm, and ishraj playing a tune from the villages of the plains. Trikon has fiery riffs on the guitar matched by tabla. Triueni slows down the place with fluid moods evoking the rivers of Nepal. Teen vanoa features the ishraj in a haunting folk melody, and is joined by the flute in Teebar, a harvest time folk song.
Trikaal 2: An Ode to Freedom
YouTube sample:
The four tracks on the group's second album expand the range of sound, with didgeridoo, saxophone and djembe. The opening track Wind and Strings has a distinctly Latin sound, shaped by tabla and djembe and layered with fine work on guitar, and flute. The next track, Of the Zero, brings back the folk elements played on flute and saxophone. The didgeridoo is showcased again in the next track Khoj, with the bass, murchungra and tabla leading up to a terrific crescendo. The album ends in fine style with Trikaal Tantriks, featuring all the musicians.
Trikaal 3: Global Waves
YouTube sample:
The nine tracks of the group's third album have the most diverse range of sounds. Shanti River features Buddhist chanting by Ani Choying Drolma and Hindu devotional singing along with a wide range of percussion. The next tracks, Samba Himalaya and Flowers of Life, have a distinct Latin sound. Jewels of Heaven is a treat, blending the ishraj, sitar and Buddhist chanting.

The ishraj is joined by the flute in the next track, Folk Tantra. Sitar (with Bijaya Vaidya) and guitar pair off superbly in the aptly named piece Colours of East-West. The high energy of the track Trikaal Tantriks is followed a blues-rock piece Jam Freak Street, with lead guitar and sax. The album ends with DJ Raja's rousing club track, Trikaal Air, with funky didjeridoo and tabla.
Author:
Madanmohan Rao
Madanmohan Rao is an author and media consultant from Bangalore, and global correspondent for world music and jazz for World Music Central and Jazzuality. He has written over 15 books on media, management and culture, and is research director for YourStory Media. Madan was formerly World Music Editor at Rave magazine and RJ at WorldSpace, and can be followed on Twitter at @MadanRao.