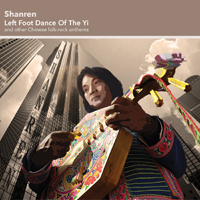 Shanren
Left Foot Dance of the Yi and Other Chinese Folk Rock Anthems (Riverboat Records/World Music Network, 2014)
Louis Armstrong slyly pointed out that, "All music is folk music. I ain't never heard a horse sing a song." Over the past couple of years I've been heartened by the refashioning, reshaping and recycling of folk music from around the globe. Bending, breaking or just simply deviating from the well-worn path has become the order of the day for many musicians wanting to blaze their own trail, while still holding on the threads of musical traditions. Interestingly enough there are no hard and fast rules of what folk music is and what it isn't.
Traditionalists and ethnomusicologists, bless them, would have you believe that they are final word on the origins of a particular folk song or traditions, but that thinking is like everything else – it comes down to what you can prove. Unfortunately, one never gets to hear the astonishment in the voice of an ethnomusicologist when confronted by an even older version of a standard folk tune and finds it almost unrecognizable from what is generally accepted.
In this day and age we are treated to all sorts of collaborations and musical re-imaginings like Canadian guitarist Adrian Raso and his collaboration with the Balkan brass band Fanfare Ciocarlia. Desert musicians like Bombino and Tinariwen have gone electric, and without the hoopla of Bob Dylan going electric. Esko Jarvela's Epic Male Band had turned Scandinavian folk and rock on its ear. Northern Californian musician JeConte had teamed up with Malian musicians and Tibetan vocalist Yungchen Lhamo has recorded with the Russian contemporary pianist Anton Batagov. I've heard people tell of the extraordinary lengths to which they've gone to get a particular meal or a favorite food. Interestingly enough I think many musicians go just as far, or even farther, for a good tune. It's just that travel and the Internet age has made it easier.
Well, there's already something new on the horizon for Chinese folk. That brings me to the debut recording of south-western China's Shanren and their recording Left Foot Dance of the Yi and Other Chinese Folk Rock Anthems. Set for release on January 28th on the Riverboat Records/World Music Network, Left Foot Dance of the Yi is an explosive re-imagining of Chinese folk with enough shiny edges melded to the burnished beauty of the traditions of Yunnan province to turn this musical road trip into a pleasure ride. Paying homage to the musical traditions and lifestyle of the Yi and Wa people and tapping into the growing expanse of modern music, Shanren is bent on luring listeners into respecting the often forgotten folk traditions by fashioning a sound that melds the old with the new and East with West.
Gilding track with searing rock licks and feel-good reggae beats, Shanren doubles the pleasure with traditions that include the intricate percussive techniques found in the Wa people, the four-stringed Yi lute or xianzi, the tooth harp and the use of the dabiya lute. Shanren's band members, vocalist, xianzi and dabiya player and guitarist Qu Zihan; bassist, vocalist, tooth harp player and percussionist Ai Young; qinqin, jiajia and tooth harp player and backing vocalist Xiao Budian, drummer and backing vocalist Ou Jianyun and percussionist, flutist and backing vocalist Sam Debell turn opening track, "Wandering" with its field recordings of the Yi and Wa tribes against recordings of Beijing's busy streets, into an atmospheric delight, while edgy rock dominated tracks like "Happy New Year" come across as savvy and fresh.
Goodies include tracks like "Drinking Song" and "Song of the Wa" that comes with a layer of rap entwined amongst the lush traditional vocals, while tracks like "Bi Ling Tong" "La Suo Mi" and "Left Foot Dance of the Yi" retain their pleasing folk feel.
The traditional Kunming children's song "The Crab" gets a clever reggae makeover as does the following "Yi Wa," but my favorite is the rock laced original track "Thirty Years" that plays vocals against some kick ass lute playing and percussion.
Equally entertaining is what musical genres have hooked the members of Shanren and how they have managed to intertwine those into these traditional Chinese folk songs. Left Foot Dance of the Yi delights in transforming the expected into something savagely hip.
Buy Left Foot Dance of the Yi and Other Chinese Folk Rock Anthems in North America
Buy Left Foot Dance of the Yi and Other Chinese Folk Rock Anthems in Europe
Author:
TJ Nelson
TJ Nelson is a regular CD reviewer and editor at World Music Central. She is also a fiction writer. Check out her latest book, Chasing Athena's Shadow.
Set in Pineboro, North Carolina, Chasing Athena's Shadow follows the adventures of Grace, an adult literacy teacher, as she seeks to solve a long forgotten family mystery. Her charmingly dysfunctional family is of little help in her quest. Along with her best friends, an attractive Mexican teacher and an amiable gay chef, Grace must find the one fading memory that holds the key to why Grace's great-grandmother, Athena, shot her husband on the courthouse steps in 1931.
Traversing the line between the Old South and New South, Grace will have to dig into the past to uncover Athena's true crime.