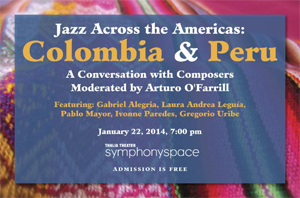 The Afro Latin Jazz Alliance will host a conversation that explores traditional rhythms and music of Colombia and Peru and their adaption to the big band jazz format on January 22, 2014 at 7 PM at Symphony Space in New York. The session will feature some of today's most vital composers and musicians on the New York jazz scene.
Artists include Gabriel Alegria, Laura Andrea Leguía, Gregorio Urbie, Pablo Mayor, Ivonne Parades, and Arturo O'Farrill photo by John Abbott. These musicians have both a clear connection and education in jazz arranging and composing styles and dedication to their indigenous roots. These are artists who perform jazz, but do not abandon their identities or culture. They embrace the American ideals and aesthetic in jazz and recognize those qualities in their own forms. The idea is to synthesize a hybrid that is neither American nor Peruvian or Colombian but really Pan American, not jazz, not Latin but a music of the future.
Arturo O'Farrill and the Afro Latin Jazz Orchestra will present two concerts on February 14 & 15th at Symphony Space titled, Jazz Across the Americas: Colombia & Peru.
Admission to the conference is free
Symphony Space
2537 Broadway, New York, NY 10025
Jazz Across the Americas: Colombia & Peru – A Conversation with Composers is made possible with support from the National Endowment for the Arts
Author:
World Music Central News Department
World music news from the editors at World Music Central