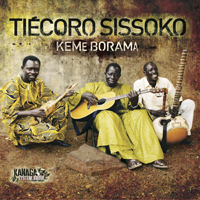 Tiecoro Sissoko
Keme Borama (Kanga System Krush, 2013)
Set for release on February 4th on the Kanga System Krush, Keme Borama features guitarist and griot vocalist Tiecoro Sissoko and fellow musicians kora player Madouba Camara and jeli ngoni player Adama Tounkara on this exploration of Mali's rich musical traditions. Keeping alive the jeli (griot) tradition, Mr. Sissoko fashioned a career out of playing with such artists as kora master Toumani Diabate at the famed Bamako's The Diplomat club, as well as traveling and playing throughout West Africa and France as one of Mali's singer storytellers. Sadly, Mr. Sissoko passed away in May 2012, making this one and only recording all the more precious as Mali continues to struggle to preserve its cultural heritage against a wave of Islamic extremism and armed conflict.
Aja Salvatore, Kanga System Krush founder and producer, relates, "We first met Tiecoro at the now defunct Hogon club Tomikorrobougou. We were rehearsing a project when Tiecoro showed up and asked if we could listen to his demo tapes. We were immediately struck by his classic Kayes' jeli singing and phenomenal solo guitar style. Teicoro shines in his "Djeliya" with the skilled jeli ngoni of Adama Tounkara musically conversing with Camara's melodic Kora. In star comparison to "Afro Pop: This album is a testament to the raw musicality of the Djelis from the Kayes Region of Mali."
Capturing a sound that could have so easily disappeared into the ether, Kanga System Krush offers a precious listen to yet another Malian musical marvel. With Mr. Sissoko's guitar lines, Mr. Tounkara's ngoni and laced together with the delicate fancy work of Mr. Camara on kora, Keme Borama takes flight with title track that is also a well-known West African folk song about two warrior brothers who despite fatigue win the battle. Keme Borama offers up treats like the wedding song "Jaora Konya Donkili" or "A Heartful Man," a sweet little love song "Ti ta ti" and "Haidara Sidifo" about those people who help others. There's also a cleverly worked number "Soryia Bende" that is sung for comedic effect and apparently has an accompanying funny dance to go along with it and a charming instrumental version of "Sa Funke."
Keme Borama offers listeners a pleasure journey into the world of Mali's Kayes region. Expertly recorded, Keme Borama captures every tiny nuance of guitar, ngoni and kora, as well as the emotions of Mr. Sissoko's vocals, so that these tracks come across as if the music were sitting in the room in front of you. What a delightful, precious gift.
Buy Keme Borama in North America
Buy Keme Borama in Europe
Author:
TJ Nelson
TJ Nelson is a regular CD reviewer and editor at World Music Central. She is also a fiction writer. Check out her latest book, Chasing Athena's Shadow.
Set in Pineboro, North Carolina, Chasing Athena's Shadow follows the adventures of Grace, an adult literacy teacher, as she seeks to solve a long forgotten family mystery. Her charmingly dysfunctional family is of little help in her quest. Along with her best friends, an attractive Mexican teacher and an amiable gay chef, Grace must find the one fading memory that holds the key to why Grace's great-grandmother, Athena, shot her husband on the courthouse steps in 1931.
Traversing the line between the Old South and New South, Grace will have to dig into the past to uncover Athena's true crime.