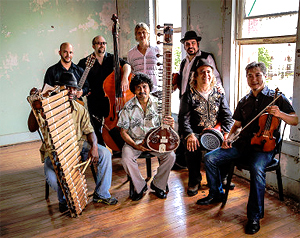 Award-winning Austin world music band Atash will be performing two nights in New York city at the McKittrick Hotel's "Sleep No More" show on January 9 and 13.
Atash, based in Austin, Texas, represents the values of cooperation and collaboration, consisting of master musicians from Iran, India, Guinea, France, México, South Korea, Italy, Cuba, and the United States.
The band has recorded a new album titled Everything is Music, scheduled for release March 2014. Blending the musical styles from the Middle East, India, and West Africa with genres such as flamenco, western classical, jazz and rock, this continuously evolving ensemble continues to demonstrate how music can bring together diverse and contrasting cultures. The band endeavors to become pioneers for the world music scene in Austin and for any musicians from unlikely places.
The recordings for Everything is Music began in 2010 at Troubadour Studios in Lockhart. Located deep in the heart of Texas, the state of the art recording studio was a unique spot for the international band. By 2012 more than 20 pieces had been recorded at Troubadour and The Still in Austin, selected from older repertoire that had never been recorded and new songs. Hints of flamenco, qawwali, thumri, rock, reggae and jazz are all flawlessly woven into the record. The band enlisted the talents of Naga Valli on Indian vocals, Uzbeki master percussion virtuoso Abbos Kosimov, renowned jazz fusion guitarist Fareed Haque and chorus singers from Les Petits Chanteurs of Haiti.
All East Coast Tour Dates:
01/09/14 at Manderley Bar at McKittrick Hotel [Sleep No More Show] – New York, NY
01/11/14 at Princeton Museum – Princeton, NJ
01/11/14 at Jalopy – Brooklyn, NY
01/12/14 at Rockwood Music Hall – New York, NY
01/13/14 at Manderley Bar at McKittrick Hotel [Sleep No More Show] – New York, NY
Author:
World Music Central News Department
World music news from the editors at World Music Central