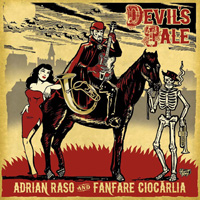 Adrian Raso and Fanfare Ciocarlia
Devil's Tale (Asphalt Tango Records, 2013)
Admittedly I'm an easy mark for Gypsy Django Reinhardt/French Manouche style music, but the combo of Canadian guitarist Adrian Raso's and Romania's brass band Fanfare Ciocarlia for their February 11th release Devil's Tale, recorded on the Asphalt Tango Records label, wowed me and had me begging for more. Fans will know Mr. Raso from such releases as Electric Medusa, Tales of a Travelling Bohemian, Black Mamba and C'est La Vie, as fans will recognize Fanfare Ciocarlia from such recordings as Baro Biao: World Wide Wedding, Queens & Kings, Radio Pascani, and Balkan Brass Battle with the Boban Markovic Orkestar. Combine the two and you get a rip-roaring ride full of Gypsy jazz, meaty Balkan brass and clever quirkiness that's impossible to resist.
In addition to guitar, banjo and electric bass provided by Mr. Raso and Fanfare Ciocarlia's trumpeters Costica "Cimai" Trifan, Radulescu Lazar, Paul Marian Bulgaru and Trifan Craciun; clarinetist and alto sax player Oprica Ivancea; alto sax player Daniel Ivancea; tuba players Constantin "Pinca" Cantea and Montel "Gutzel" Trifan; tenor horn player Constantin "Sulo" Calin; baritone horn player Laurentiu Mihai Ivancea; large drum player Costel "Giniaca" Ursu and percussion by Nicolae Ionita, Devil's Tale is rounded out by guitarists John Jorgenson and Rodrio and rock drummer Kevin Figueiredo. Together Mr. Raso, Fanfare Ciocarlia and guests pull off a sound that is deliciously savvy and wholly addictive.
Mr. Raso notes, "Meeting the band was a great experience. We bonded instantly. We joked about being separated brothers as it really did feel like that. Musically we understood each other from the get go."
Making their way through such delights as "Urn St. Tavern," the fun filled quirkiness of "Swing Sagarese" and the slyly silky "The Absinthe-Minded Gypsy," Mr. Raso and Fanfare Ciocarlia lure the listener in with a full-bodied sound that reveals just a glimpse of the Gypsy soul by way of Paris, New Orleans and Romania.
Armed with tight, neat compositions, the combo proves potent with tracks like "C'est La Vie" where the instrumentation is simply stunning, making certain there's no bullying the way through a track. Charm oozes out on tracks like "Charlatan's Waltz," while title track "Devil's Tale" packs a punch with irresistible threads of twangy guitar goodness and sassy brass lines. The New Orleans tinged "Leezard's Lament" and elegantly worked "Bireli's Waltz" are indeed standout tracks, as is the delightfully clever "Django" that's jam-packed with crafty turns that simply beg for a good time.
Buy Devil's Tale in North America
Buy Devil's Tale in Europe
Author:
TJ Nelson
TJ Nelson is a regular CD reviewer and editor at World Music Central. She is also a fiction writer. Check out her latest book, Chasing Athena's Shadow.
Set in Pineboro, North Carolina, Chasing Athena's Shadow follows the adventures of Grace, an adult literacy teacher, as she seeks to solve a long forgotten family mystery. Her charmingly dysfunctional family is of little help in her quest. Along with her best friends, an attractive Mexican teacher and an amiable gay chef, Grace must find the one fading memory that holds the key to why Grace's great-grandmother, Athena, shot her husband on the courthouse steps in 1931.
Traversing the line between the Old South and New South, Grace will have to dig into the past to uncover Athena's true crime.