The world music circuit in India for the new year took off to a terrific start on January 2 in Bangalore, with a fusion concert blending Indian and Western classical music, jazz, folk, ghazals, bhajans and Bollywood!
The annual Lakshminarayana Global Music Festival, this time in four cities, is the brainchild of Indian classical and fusion violinist Dr L Subramaniam. The festival is organized and named in honor of his father and violin guru Prof. V. Lakshminarayana Iyer, who passed away in 1990. The festival is now in its 22nd year, and I have attended over six of these festivals (see my earlier coverage at L. Subramaniam and Global Fusion: Carnatic, African, Arabic and Japanese blends in 2012!).
The lineup this time included jazz flautist Hubert Laws from Los Angeles and Norwegian tuba soloist Oystein Baadsvik. Dr L Subramaniam (a medical doctor as well as musician) was joined on stage by his wife Kavita Krishnamurti (a classical and Bollywood singer), and his three children Bindu, Ambi and Narayana.
They were backed by a high-energy percussion section: Pandit Tanmoy Bose on tabla, V.V. Narayana Murthy on mridangam, Satya Sai on morsing (jaw harp), and Karthik Mani on percussion (electronic drums, cajon and darbuka). On Western instruments were Alwyn Fernandes on guitar, Preetam Koilpillai on keyboards, and Parkash on bass.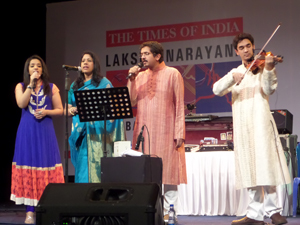 It was inspiring to watch all 12 musicians come together for the climax at the Bangalore festival for two closing collaborative pieces; the build-up through eight segments showcased a range of individual styles.
Each of Dr. Subramaniam's children – themselves accomplished adult musicians — took the stage for solos in carnatic, ghazal and fusion styles. Ambi played on violin, while Narayana sang in ghazal style and Bindu in fusion.
Ambi and Bindu also have their own band called Subramania. Bindu joked that the name was inspired by a Russian newspaper's mis-spelling of their father's name as 'Subramaniac!'). She drew loud applause for saying that the Bangalore audience is the best in the country for music.
Ambi began with a composition in the raga Sindhu Bhairavi. Bindu sang a fusion piece, Days in the Sun, followed by her composition See You Again (in English and Hindi) for which her brother Narayana joined her.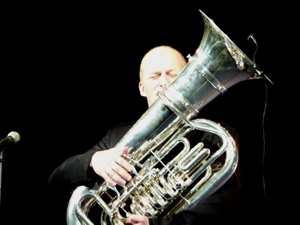 Tuba soloist Oystein Baadsvik then showcased some Norwegian folk tunes and classical music (Astor Piazzolla). He drew rousing applause for his techniques, including 'one tongue,' 'two tongue' and 'singing' styles – even walking off stage into the audience for one piece. Some of the compositions were inspired by the return of the sun after the long dark Norwegian winters ("the sun came with a melody," he explained).
One piece even sounded like a blend between scat singing and hip hop. It was Oystein's first time playing in India, and he is sure to get a good reception for his performances in other cities too.
Kavita Krishnamurti – also Dr. L. Subramaniam's wife – played a soul-stirring bhajan; a tribute to legendary Bollywood singer Manna Dey, called Pyaar ka Sagar (Ocean of Love); and a piece set in raga Malhar (from the movie Saaz). Her soaring vocals paired off well with Satya Sai on morseng and bol (Indian percussion language).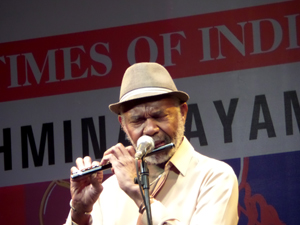 Jazz flautist Hubert Laws, also in India for the first time, then played three tracks: a composition by Sonny Rollins performed along with Karthik Mani, the second with the Western instrumentalists, and the third a duet with Bindu (called We are in Ecstasy).
He was honoured with a special award presented by former Karnataka chief minister S.M. Krishna. The gifts included a huge painting of an elephant, and Laws joked: "How will I get this onto the plane?"
Dr. L. Subramaniam then took the stage himself, starting with an absolutely haunting ballad called Tribute to Departed Souls, accompanied on surmandal by Narayana and tanpura by Bindu. The ballad was based on raga Malkauns, and was an ode to legends, friends and family members who passed away in 2013.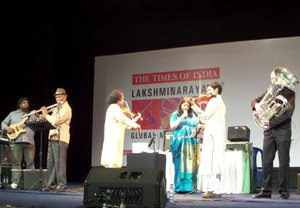 For the concluding track, Chasing the Field, all 12 musicians came together. Showcasing ragas Panatuvarali and Durga, the lead instruments all played in unison at the outset and then branched off in solos. The highlight was the rapid-fire violin-percussion call-response sessions between Dr. L. Subramaniam and the four percussionists, and the climax was father and son playing violin together and building up to the final crescendo.
Live performances from previous versions of the festival have been released on CD/DVD and shown on TV, but nothing compared to the delight of the musical magic coming live on stage.
Artist profiles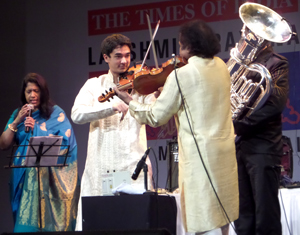 Ambi Subramaniam gave his first violin performance at the tender age of seven; now 21 years old, he has played violin in Western and Indian styles along with Larry Coryell, Ernie Watts, Corky Siegel and Shankar Mahadevan. Ambi was a featured soloist at the Violins for Peace concert series, and has performed with the Orchestra Nationale du Lille, Sinfonia Baltica, Filharmonica du Stadt Sibiu, the Kwazulu Natal Symphony, the Fairfax Symphony Orchestra and the Leipzig Philharmoic Orchestra.
Bindu Subramaniam wrote her first song at seven and has been performing since age twelve. She blends soft rock and jazz elements with traditional Indian music. Bindu has performed alongside artists like Al Jarreau, George Duke, Stanley Clarke, Billy Cobham, Dr. M. Balamuralikrishna, Pandit Jasraj, Pankaj Udhas, Hariharan, Remo Fernandes, and Matthew Santos.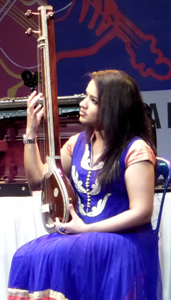 Kavita Krishnamurti Subramaniam won her first gold medal at a music competition at the age of eight. While in college, she started singing professionally with Bollywood singers Hemant Kumar, Mukesh and Manna Dey. She has over 15,000 songs to her credit from dozens of movies in pop and ghazal styles, and has also collaborated with Western jazz, pop and classical artistes. Kavita received the Padmashree award in 2005.
Hubert Laws is winner of the 2011 NEA Jazz Masters Award, was selected the No. 1 flutist in Down Beat readers' polls ten years in a row and was the critic's choice for seven consecutive years. As a classical performer, he has appeared as a soloist with orchestras of New York, Los Angeles, Dallas, Chicago, Cleveland, Amsterdam, Japan, and Detroit. He has released 20 albums including My Time Will Come and Storm Then The Calm.
Oystein Baadsvik a tuba virtuoso, chamber musician, lecturer and recording artist. He has developed a range of new tuba playing techniques, and performed with the Oslo Philharmonic Orchestra, Bergen Philharmonic, Warsaw Philharmonic Orchestra and the Taipei National Symphony Orchestra.
Dr. L. Subramaniam is a leading exponent of Indian classical and fusion violin, and has performed and recorded South Indian classical music as well as Western classical, and featured jugalbandis with a range of North Indian musicians. His international collaborations have included Yehudi Menuhin, Stephane Grappelli, Stevie Wonder, Jean-Pierre Rampal, Herbie Hancock, Joe Sample, Stanley Clarke, George Duke, Al Jarreau, Jean Luc Ponty, and Billy Cobham. His film credits include Mira Nair's Salaam Bombay and Mississippi Masala. His outstanding fusion albums include Conversations and Global Fusion.
Author:
Madanmohan Rao
Madanmohan Rao is an author and media consultant from Bangalore, and global correspondent for world music and jazz for World Music Central and Jazzuality. He has written over 15 books on media, management and culture, and is research director for YourStory Media. Madan was formerly World Music Editor at Rave magazine and RJ at WorldSpace, and can be followed on Twitter at @MadanRao.