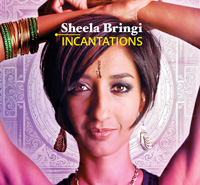 Sheela Bringi
Incantations (White Swan Records, 2014)
Indian American singer and multi-instrumentalist Sheela Bringi says of her musical training under classical Indian teachers G.S Sachdev and Aahish Khan on the eve of her debut recording Incantations, due out on February 25th on the White Swan label, "Studying with these innovators and masters cracked my musical world wide open. It helped me develop a sense of where music traditions might bend, and where they might break. This sense is necessary if you hope to reshape and re-imagine old music."
Ms. Bringi stylishly proves that Incantations is all about reshaping and re-imagining old music. Dipping into a wealth of music and musical constructions like jazz, American blues, Klezmer brass, Atlanta soul and music from the Balkans, Ms. Bringi, along with collaborator, producer and fellow musician Clinton Patterson, surprises and delights by turns as Incantations unfolds musical elements from around the globe and re-fashions it into fresh, vibrant, inspired music that turns inside out the possibilities of Indian music.
And, Ms. Bringi isn't shy about pulling in alternative elements into her music as she does with opening track "Invocation," lacing her lovely vocals, harp and harmonium playing with didgeridoo, conch and percussion by Micah Sheiner. Rather than detracting, Ms. Bringi's "Invocation" sets a decidedly soothing and meditative tone.
Incantations expands its spell with "Sri Krishana" with collaborations by vocalist Aditya Prakash, drummer Gene Coye and bassist Ben Shepherd in this soulfully complex track with its hip-hop/soul connections with Mr. Coy and Mr. Shepherd. Incantations continues to dazzle with searing tracks like "The Three-Eyed One (Maha-Mrityunjayz Mantra)" edged with Mr. Patterson on trumpet, Mr. Sheiner on didgeridoo, Jon Armstrong on tenor sax and Leonice Shinneman on bendir and shakers or the dizzyingly delicious "Buffalo-Demon Slayer" with excerpts from Mahishasuramardini Stotram in this Klezmer brass infused romp complete with clarinet, tenor saxophone, bass, trumpet, shekere, bass, thavils, harmonium and manjira.
Incantations dips into the mystical elements of Indian music with stunning tracks like the Himalayan singing bowl infused "Bhajamana Ram" and a Balkan-inspired meter and "Raga Khammaj" with its languid elegance of Ms. Bringi on bansuri and Masood Ali Khan on hang. Equally delicious are tracks like "Peacock with Ms. Bringi's and Mr. Patterson's vocals surrounded by trumpet and tabla and "Moonrise Divination" with its lush jazz fashioned out of Ms. Bringi on harp, Mr. Patterson on trumpet and Mr. Sheiner on singing bowls.
Incantations pulls out all the stops for closing track "Raja Ram" in this South Asia and American South hybrid.
Mr. Patterson notes, "There are a number of parallels between the American South and South India. The most meaningful one for me is the balance of celebration and darkness within the music; it's all blues."
Layered with harmonium, bansuri and manjira by Ms. Bringi; sogo, coconut shells and shakers by Mr. Shinneman; guitar, shekere and low drum by Mr. Patterson and bass provided by Mr. Shepherd with vocals by Ms. Bringi and Mr. Patterson, "Raja Ram" comes across as wholly genuine and delightfully fresh.
Devoid of avant-garde pretentions or jarring twists and turns, Incantations keeps the music soulfully minded and inviting, proving that reshaping and re-imagining music can be just as mystically tuned and elegantly wrought.
Author:
TJ Nelson
TJ Nelson is a regular CD reviewer and editor at World Music Central. She is also a fiction writer. Check out her latest book, Chasing Athena's Shadow.
Set in Pineboro, North Carolina, Chasing Athena's Shadow follows the adventures of Grace, an adult literacy teacher, as she seeks to solve a long forgotten family mystery. Her charmingly dysfunctional family is of little help in her quest. Along with her best friends, an attractive Mexican teacher and an amiable gay chef, Grace must find the one fading memory that holds the key to why Grace's great-grandmother, Athena, shot her husband on the courthouse steps in 1931.
Traversing the line between the Old South and New South, Grace will have to dig into the past to uncover Athena's true crime.