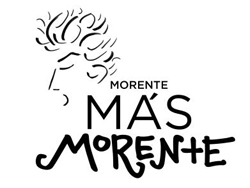 In addition to concerts, the Mas Morente tribute to the late Flamenco singer Enrique Morente will include other disciplines such as the fine arts. 'La Aurora de Morente' is one of the highlights. The exhibit includes art works made by Aurora Carbonell, Enrique Morente's wife, during the past three years.
Before he passed away, Enrique Morente asked his wife to continue painting and creating, and to show her work, says to Aurora. This was one of his final wishes.
The entire exhibit has Enrique Morente as the central figure. It includes paintings made with various techniques, drawings on paper and sculptures. Aurora will make three presentations at the exhibition accompanied her children, Estrella, Soleá and José Enrique; her mother Rosario Muñoz; her siblings Montoyita, Antonio Carbonell, and La Globo; her son in law Javier Conde; her brother in law Ángel Gabarre; and her nephews Monti and Popo.
The exhibition will take place at the Museo y Salón de Té of the Teatro Español, February 14-25, 2014, Monday through Sunday, from 17:00 to 19:15. Admission is free.
Author:
World Music Central News Department
World music news from the editors at World Music Central