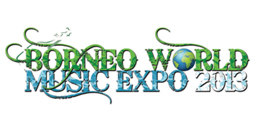 Sarawak Tourism Board has announced its 2nd Borneo World Music Expo. The international exhibit and showcase will be held in Kuching, Sarawak, Malaysia – Borneo from June 16 to 18, 2014. Organizers are seeking showcase proposals from Indian, ASEAN and Southeast Asian musicians. The deadline is January 31, 2014.
The selected artists will perform at special showcases for local, regional and international delegates, at least 25 of whom will be bookers and programmers from international venues and festivals.
Borneo World Music Expo has room for 10 artists/groups in total and is specifically looking for artists who work within traditional and/or what has come to be known as 'world music' categories. This music could be acoustic or it could be contemporary and mixed with modern forms. However, organizers can only consider music that is at least partially based in music that comes from traditional culture.
Requirements:
1) A minimum of 6 songs or at least 30 minutes, depending upon the length of the music. These should be delivered online, uploaded to the following site.
Full uploading instructions are available on the site, and it is both easy and free. Then send the link along with sharing permission to the jury:
2) Links to online videos, if you have them.
Artists who have potential tour support from airfares, sponsors or can pay their own transportation and hotel will receive special attention, though all are welcome. Organizers will be providing some expenses for the selected artists and will communicate the terms once they are confirmed. However, showcasing artists should realize that this is an audition and not a typical show and, like nearly all showcase events, this funding may not cover all expenses. There will be no fees for the showcase performance.
Author:
World Music Central News Department
World music news from the editors at World Music Central