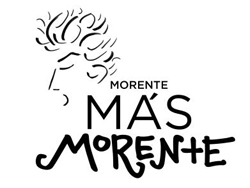 The family of the great flamenco singer Enrique Morente, represented by his daughters Estrella and Soleá Morente, presented yesterday at Madrid's Teatro Español the Memorial 'Morente Más Morente' (Morente Beyond) which is an official tribute to the influential flamenco singer.
The memorial was organized by Juan Verdú and Enrique Calabuig who joined the Morente family during the presentation along with some of the artists that will take part in the events: Juan Diego, José Sacristán, Carmen Linares, La Shica, Nicolás Dueñas, Pepe Habichuela, Josemi Carmona, Blanca del Rey, Enrique Heredia 'Negri' and the Familia Carbonell. Pedro María Corral, from Madrid City Council's Department for the Arts opened the event.
Over 50 artists have gotten together for this grand memorial that features concerts, exhibitions, readings and other events. Morente Más Morente will take place during January and February 2014 at several venues in Madrid with an extension in Granada (morente's birthplace). The memorial begins with the broadcast of the RNE Radio 3 (Spanish National Radio) show Duendeando broadcast live from La Casa Encendida on Sunday, December 15 at 18:00. Admission is free until the venue is full. A second live RNE Radio 3 broadcast will take place on Thursday, February 19, 2014 at Sala Berlanga of the Fundación SGAE.
Events include the 'La Aurora de Morente' exhibition of art works by Enrique Morente's wife, Aurora Carbonell; a series of Flamenco, rock, pop concerts with top acts, and poetry readings; as well as photo exhibitions in Madrid and Granada.
More at www.morentemasmorente.com
Author:
World Music Central News Department
World music news from the editors at World Music Central