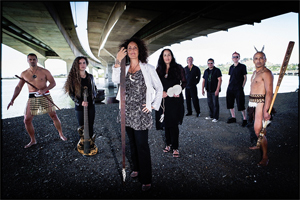 In her native New Zealand, Moana Maniapoto has long been beating the drum on behalf of Maori culture. In recent years, she has taken her mission and message offshore.
Performances at events such as the World Expo in Shanghai, the New Orleans Jazzfest, the Montreux Jazz Festival and UK's WOMAD have established Moana and her current band, The Tribe, as primary Aotearoan ambassadors around the globe.
Moana and her bands have been pathfinders in pushing the boundaries of Maori music, both in live performance and on records, deftly fusing traditional instrumentation, language and haka with elements of electronica, RnB, soul, reggae, rock and classical.
One of the most articulate and significant Maori voices of her generation as lawyer, advocate, documentary maker and talkback host on New Zealand's first national indigenous radio station, Maniapoto initially made a mark musically with the Moahunters back in the '90s. As she says: "People have said I was the first musician to incorporate taonga puoro [taonga puoro], karanga [Maori welcome call], te reo [Maori language] and haka into contemporary dance music. I wanted to bring haka in as a counterpoint to rap."
Moana admits the fusion had some political motivation. "Apart from the creative aspects, it was also about uplifting Maori and challenging Pakeha [white New Zealanders]. The '90s was a period of activism. Music was my way of being part of a revolution."
Now Maniapoto insists it's more about the music and the songs than pushing political barrows. "These days, it's not unusual to see Maori language artists performing with an orchestra or taonga puoro within electronic music, so I don't feel so compelled to make a point anymore. That's kind of liberating actually. If I feel like writing a song in English, I do. If it comes to me in Maori, that's all fine too."
The singer/composer has reached new peaks with The Tribe, a collective that has constantly evolved since its inception in 2002.
The band's last studio album, 2009's Wha, was its first exclusively Maori language release. A new album, Rima, is on the agenda.
The new songs include what Moana terms "a tribute to the sisterhood" called 'Warrior Women'," says Moana. 'Ko Au', she adds, is a new love song to the ocean with Maori lyrics." 'Seashells' is a protest song that challenges the decisions being made by the current New Zealand government to open up the seabed to mining by foreign multinationals.
While the current line-up encompasses three new members, the band's credo is constant. "We are fanatical about haka and puoro remaining authentic as art forms themselves but lending themselves to a fusion of contemporary with traditional onstage and in recordings," the leader summarises.
Many people around the world will be familiar with the basic haka, thanks to the All Blacks rugby team. Moana uses the ancient chant-dance where it fits naturally — on songs such as 'Treaty', 'Ancestors', 'Te Apo' and 'Whaura', which she says require a strident almost militant vocal style and staunch lyrics.
• The above interview first appeared in Rhythms — Australia's only dedicated roots music magazine, for which the author is World/Folk correspondent.
Author:
Tony Hillier
Tony Hillier is based in Cairns in far north Queensland, from where he has been actively involved in all areas of the music industry in Australia for the past 25 years, primarily as a journalist, writing for national publications such as the Weekend Australian and Rhythms magazine (for which he is World Music & Folk correspondent), and performing locally, nationally and internationally with the bands Kamerunga and Snake Gully. He has also presented and produced World Music and Folk music programs for ABC Far North, Port Douglas Radio and 4CCR-FM, netting a CBAA Best Specialist Music Program Award with the last-named for a documentary on flamenco. Before coming to Australia, he was a racing journalist of some repute in the UK, where he wrote a column for the London Evening Standard under the nom-de-plume of Ajax.