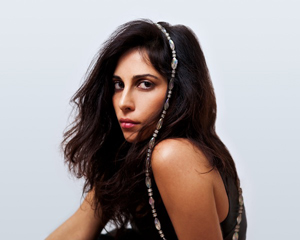 Lebanese singer-songwriter Yasmine Hamdan is scheduled to perform at globalFEST 2014, on January 12th at Webster Hall. Yasmine will be performing at the Standard Hotel on January 10th and will present her new album titled Ya Ness.
Hamdan was first known as a member of Soapkills, an indie/electronic duo from Beirut that became an underground favorite across Arabic-speaking territories.
Hamdan is currently based in Paris. She recorded Ya Nass (Crammed Discs) an album of electro folk pop, with acoustic guitars, vintage synths, and hypnotic atmospheres.
Yasmine will be appearing as herself in the new Jim Jarmusch film Only Lovers Left Alive. She will be singing her song "Hal", from Ya Nass, in the film featuring Tilda Swinton that will be released April 2014.
Upcoming Concerts
1/10 – The Standard Hotel (Private Party, 8 pm) – New York, NY
1/12 – globalFEST at Webster Hall – New York, NY
Author:
World Music Central News Department
World music news from the editors at World Music Central