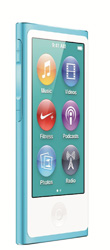 Got your mug of coffee, tea or hot cocoa? Got on your fuzzy bunny slippers and your Hello Kitty bathrobe? Is your room filled with the soothing, mellow sounds of holiday music as the air is faintly scented with the tang of spruce? No? Okay, you're in sweat pants and a sweater filled with holes, drinking your "special" (wink, wink) brew from a gas station go-cup and listening to some deafening thrash metal. Either way, World Music Central is ringing in the cheer with our annual gift guide. Whether you're shopping online for friends, family, work colleagues or that weird uncle that's not really a relation but your mother keeps insisting you buy a gift for, World Music Central has got the goods.
Let's kick off things with Electronic Goodies
The music junkie on your list could probably go for an MP3 player or an upgrade. Some of the latest MP3 players out there include the Apple iPod nano 16GB ($154.99), Apple iPod touch 32GB ($311.00), Apple iPod shuffle 2GB ($49.99) and Apple iPod touch 64GB ($399.00). All these players come with a better than four star rating. But if you're not beholden to Apple products there's plenty more to choose from like the SanDisk Sansa Clip+ 8 GB MP3 Player ($65.00), Sony Walkman NWZE374/BC 8GB MP3 Player ($61.15), and the Philips Portable Media Player, 30 gig, MP3/WMA and Video Movie Player ($245.99). These also come with a four star or better rating.
The great news is about buying an MP3 player these days is that you can pretty much buy one that fits into your budget and still get a good quality product based on the capacity size of the player. Of course, if that person on your list has been especially good, or if you've been especially good, there's the Apple iPod touch 32GB Yellow (5th Generation) ($299.00), the Zune HD 64 GB Video MP3 Player ($289.99) or the Apple iPod touch 64GB (5th Generation) ($429.95).
Headphones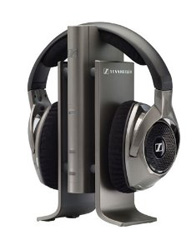 There's a whole host of headphones and ear buds out there. I consider ear buds and headphones a good gift item, but let me caution you that one set of headphones or ear buds that works for one person doesn't always mean it will work for another. People that have larger heads or sensitive ears might be a little more difficult shop for in the headphone department. Also, if buying for a younger person, headphones and ear bud should come with warnings about playing music too loud and hearing loss.
Here is a list of ear buds and headphones that might work for the person on your list: JVC HAS160B FLATS Lightweight Headband Headphones ($12.25), MEElectronics Sport-Fi M6 Noise-Isolating In-Ear Headphones with Memory Wire ($15.98), Sennheiser CX 300B MK II Precision Enhanced Bass Earbuds ($35.00), SOUL by Ludacris SL150CB High-Definition On-Ear Headphones ($68.99), Sony MDRZX100/BLK ZX Series Stereo Headphones ($14.65) and Audio-Technica ATH-M30 Professional Studio Monitor Closed-back Dynamic Stereo Headphones ($48.50).
If you are aiming for higher quality and not so concerned about budget, you might want to check out STREET by 50 Cent Wired Over-Ear Headphones – Blue by SMS Audio ($123.95), Sennheiser RS 180 Digital Wireless Headphone System ($240.31) or the deliciously fabulous Bose QuietComfort 15 Acoustic Noise Cancelling Headphones – Limited Edition ($269.00).
Speakers
If speakers are on your list, all of these come with good ratings: Micca Motion Series MB42 Bookshelf Speakers With 4-Inch Carbon Fiber Woofer and Silk Dome Tweeter ($59.95), Sony SSF-5000 Floor Standing 3-way Speaker Pair ($159.78), JBL ES20 High-Performance 3-Way Bookshelf Speakers ($129.99), Sony SSF-7000 Floor-Standing 4-way Speakers with 8″ Woofer ($298.00), BIC AMERICA RTR-EV15 15-Inch 3-Way Eviction Series Bi-Ampable Floor Speaker with High-Efficiency Horn Tweeter ($249.99) or the all-out spectacular pair of KEF X300A Wireless Digital Hi-Fi Speaker System ($999.99).
Portable CD players
Looking for a portable CD player? One of these might hit the mark: Sony CFDS05 CD Radio Cassette Recorder Boombox Speaker System ($49.99), NAXA Electronics Portable MP3/CD Player with PLL FM Radio ($60.93), Panasonic SC-HC271 iPod Dock/CD Player Micro System ($159.99), Sony Portable Digital Tuner AM/FM Radio Tape Cassette Recorder & CD Player Mega Bass Reflex Stereo Sound System ($69.95), Supersonic SC-727 Portable CD Player with Cassette/Recorder & AM/FM Radio ($49.99) and Philips DC290/37 30-Pin iPod/iPhone Alarm Clock Speaker Dock ($149.99). Again, this is one of those categories of electronics where you can choose the features you're looking for to fit into your budget. All of the portable CD players listed above do have a four star rating.
Turntables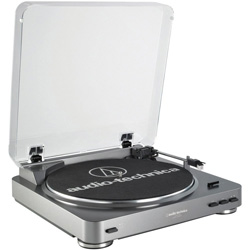 For that person on your list who's joined the growing trend by going back to vinyl, one of these goodies might look awfully good under the Christmas tree: Audio Technica AT-LP60 Fully Automatic Belt Driven Turntable ($82.99), Audio Technica AT-LP60USB Fully Automatic Belt Driven Turntable with USB Port ($105.09), Pioneer PL-990 Automatic Stereo Turntable ($129.00) or the Crosley CR6019A-BR Executive USB Portable Turntable ($99.95).
Perhaps you've got a relative with an extensive vinyl collection, but could use some upgraded equipment; here are a few new turntables with some nifty upgrades: Jensen JTA-460 3-Speed Stereo Turntable with MP3 Encoding System and AM/FM Stereo Radio ($89.95), Studebaker SB6051 Wooden Turntable with AM/FM Radio ($89.99), Electrohome® SignatureTM Retro Hi-Fi Stereo System with Record Player, CD, MP3 CDs, MP3, AM/FM, Vinyl-to-MP3 ($199.99), the fabulously retro Electrohome Wellington 4-In-1 Nostalgia Turntable Real Wood Stereo System with Record Player, USB Recording, MP3Player ($219.99) or the Teac LP-R550USB CD Recorder with Cassette Turntable (363.50).
Other gift guides:
2013 World Music Gift Guide: Concert and Educational DVDs
2013 World Music Gift Guide: Books
2013 World Music Gift Guide: Software, Miscellaneous Gifts and Music Charities
Author:
TJ Nelson
TJ Nelson is a regular CD reviewer and editor at World Music Central. She is also a fiction writer. Check out her latest book, Chasing Athena's Shadow.
Set in Pineboro, North Carolina, Chasing Athena's Shadow follows the adventures of Grace, an adult literacy teacher, as she seeks to solve a long forgotten family mystery. Her charmingly dysfunctional family is of little help in her quest. Along with her best friends, an attractive Mexican teacher and an amiable gay chef, Grace must find the one fading memory that holds the key to why Grace's great-grandmother, Athena, shot her husband on the courthouse steps in 1931.
Traversing the line between the Old South and New South, Grace will have to dig into the past to uncover Athena's true crime.