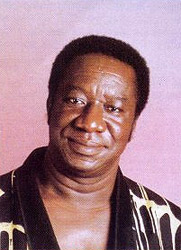 The revered Congolese soukous singer and songwriter Tabu Ley Rochereau has died. Mr. Rochereau passed away Saturday, November 30, 2013 at the Brussels St. Luc Hospital in Belgium. In recent years, he had suffered from the effects of a 2008 stroke from which he never completely recovered. Mr. Rochereau was 76.
Known to fans by a myriad of accolades as the "King of Congolese Rumba," "the messenger," "the baobab of Congolese rumba," "Prince Rochereau" or "The Voice of Lightness," Mr. Rochereau was born Pascal-Emmanuel Sinamoyi Tabu on November 13, 1937 in Bagata in the Bandundu province of what was then called the Belgian Congo.
Mr. Rochereau began his musical career early with a 1956 performance with Joseph "Le Grand Kalle" Kabasele and his group L'African Jazz, a band that he would join after graduating high school. It was his vocals on the Le Grand Kalle composition "Independence Cha Cha," which would go on to become an unofficial nationalist anthem for many newly independent African states, that would propel the young singer into the spotlight.
He would continue with L'African Jazz until the early 60s, before starting up his own group African Fiesta with guitarist Dr. Nico Kasanda. The pair would eventually split and Mr. Rochereau would head up his African Fiesta National or African Fiesta Flash. With contributing members like Papa Wemba and Sam Mangwana, the group would find success with such hits like "Afrika Mokili Mobimba."
In 1970, Mr. Rochereau would form his Orchestre Afrisa International in conjunction with his record label Editions Isa. Afrisa would go on to be one of Africa's most influential bands with such hits as "Aon Aon," "Kaful Mayay" and "Mose Konzo."
Considered one of the leading artists of soukous or African rumba music, Mr. Rochereau delighted in infusing Congolese folk music with Cuban, French, pop music, rock 'n roll and Caribbean rumba. Some of his songs include "Muzina," "Kinshasa," "Tanga Tanga," "N'daya Paradis" and "Cubana Na Vis-à-vis." His recordings include The Voice of Lightness 1961-1977, Jolie Elie, Muzina, Le Seigneur Rochereau and Tempelo.
Throughout his career, Mr. Rochereau wrote some 3,000 songs and produced some 250 recordings. He also earned the Honorary Knight of Senegal and Officer of the National Order, the Republic of Chad during his lifetime.
During Mobutu Sese Seko regime in the Congo, Mr. Rochereau, who had changed his name to Tabu Ley, would soon become disenchanted and sought out exile in France. In the 1990s, he moved to Southern California in the United States. He would find his 1990 recording Trop, C'est Trop banned by the Mobutu regime and deemed subversive. It would take the overthrow of the Mobutu regime in 1997 for Mr. Rochereau to return to Kinshasa and take up a cabinet position under President Laurent Kabila. He would continue in politics, taking up positions as Vice-Governor of Kinshasa in 2005 and later served as a provincial minister of culture.
Mr. Rochereau's life work, music and public service will be honored during a state funeral in the Congolese capital of Kinshasa.
More information and discography at Tabu Ley Rochereau
Author:
TJ Nelson
TJ Nelson is a regular CD reviewer and editor at World Music Central. She is also a fiction writer. Check out her latest book, Chasing Athena's Shadow.
Set in Pineboro, North Carolina, Chasing Athena's Shadow follows the adventures of Grace, an adult literacy teacher, as she seeks to solve a long forgotten family mystery. Her charmingly dysfunctional family is of little help in her quest. Along with her best friends, an attractive Mexican teacher and an amiable gay chef, Grace must find the one fading memory that holds the key to why Grace's great-grandmother, Athena, shot her husband on the courthouse steps in 1931.
Traversing the line between the Old South and New South, Grace will have to dig into the past to uncover Athena's true crime.