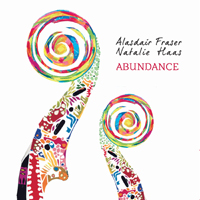 The talented duo of Scottish fiddler Alasdair Fraser and American cellist Natalie Haas has announced the release of its latest collaboration titled Abundance. The album is scheduled for release on December 9, 2013.
Alasdair Fraser currently lives in the United States and has been c collaborating with Natalie Haas for several years as acclaimed duo.
The lineup on Abundance includes Alasdair Fraser (fiddles, baritone fiddle, viola, kalimba), Natalie Haas (cellos, kalimba) together with guest musicians Donald Shaw (piano, accordion), James Macintosh (percussion), Corey DiMario (bass), Dominick Leslie (mandolin), Brittany Haas (fiddle), Hanneke Cassel (piano), Stefan Amidon (percussion), Kai Welch (trumpet) and Oscar Utterström (trombone, bass trombone, euphonium).
Buy Abundance in North America
Buy Abundance in Europe
Author:
World Music Central News Department
World music news from the editors at World Music Central