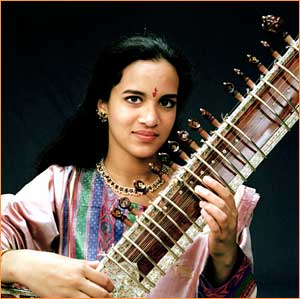 Celebrated sitarist and composer Anoushka Shankar will present her seventh album, titled Traces of You, at the World Music Institute's Masters of Indian Music series with a concert on Saturday, November 16 at 8:00 pm at New York University's Skirball Center for the Performing Arts.
After years of rigorous study with her father, the famed sitarist Ravi Shankar, Anoushka's music has grown into a multicultural fusion reflecting her personal experiences and broad musical interests. Traces of You combines Anoushka's Indian classical roots with diverse genres such as electronica, jazz, and Western classical music.
Shankar's performance at the Skirball Center is part of a two-week U.S. tour and will feature selections from her new album. Anoushka's ensemble consists of longtime collaborators Pirashanna Thevarajah on Indian percussion and Sanjeev Shankar on shehnai and tanpura; Ayanna Witter-Johnson on vocals, cello, and keyboards; Danny Keane on cello and keyboards, and Manu Delago on percussion and Hang, a relatively new acoustic instrument that resembles a steel drum but presents an even wider variety of textural possibilities. Together, the ensemble seamlessly integrates timbres and rhythms, new and old, from across the globe.
"World Music Institute has had a long and wonderful tradition of presenting the finest Indian artists—from Ravi Shankar to Zakir Hussain to Birju Maharaj. We are thrilled now to present Anoushka Shankar, a dynamic and special artist who is shaping Indian classical traditions in beautiful new ways," says World Music Institute Executive Director Karen Sander.
Saturday, November 16, 8:00pm
Skirball Center for the Performing Arts
566 LaGuardia Place at Washington Square South
Buy Traces of You in North America
Buy Traces Of You in Europe
$40-$45 Public • $30-$35 WMI Friends • $5 Bring a Kid!
$150 VIP Reception
www.worldmusicinstitute.org/event/anoushka-shankar
Author:
World Music Central News Department
World music news from the editors at World Music Central