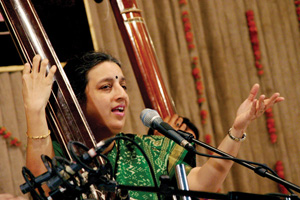 Arts organization Sama will present Mystic Voices: The Bhakti Tradition with Ashwini Bhide Deshpande and the Gundecha Brothers on Saturday, December 14th, 2013 at 7.30pm at Queen Elizabeth Hall, Southbank Centre, London.
The specially extended concert will explore the interrelationships between the spirituality in the musical, poetic and oral traditions in South Asia. The event features two of the finest exponents from two contrasting genres of Indian Classical Music, Ashwini Bhide Deshpande and the Gundecha Brothers present a double-bill of Khyal and Dhrupad music in the Bhakti tradition. Bhakti's spirituality is rooted in an intense, participatory relationship with the essential nature of reality. Its history goes back to well over two thousand years.
Ashwini Bhide Deshpande is a remarkable vocalist of the famed 'Jaipur-Atrauli' Khyal vocal tradition and is one of the leading representatives of a new generation of singers. Her voice is characterized by a blend of tonal sweetness coupled with vitality and emotion. She possesses an unerring grasp of the raga grammar as well as a fluency in Sanskrit, which enables her to present a unique, soulful quality in her singing, as well as enrich her repertoire by composing her own melodies to many sacred texts. Her artistic body of work has been acknowledged with numerous awards and citations.
In contrast to the fluid and, sometimes, elaborate Khyal presentation, Umakant and Ramakant Gundecha perform Dhrupad. The brothers are among the best performers of this oldest vocal genre of Indian classical music that has an austere quality where powerful voices dwell among the lower registers of the musical scale. Trained in the Dhrupad art by the Dagar family, whose lineage goes back to the patronage of the Royal courts of India, the Gundecha's have expanded their dhrupad repertoire by incorporating the Bhakti poetry of Kabir, Tulsidas, Padmakar, Nirala and others.
Recordings available: Night Prayer, Temple Voices, Dhrupad Vocal Recital: Ancestral Voices, Bhaktamar Stotra, Hum Sab Mahi: Dhrupad Compositions of Famous Poets Kabir, Keshav, Tulsidas and Padmakar, Sattva, Darshan, Dhrupad, Tears on a Lotus
More information at sama.co.uk
Author:
World Music Central News Department
World music news from the editors at World Music Central