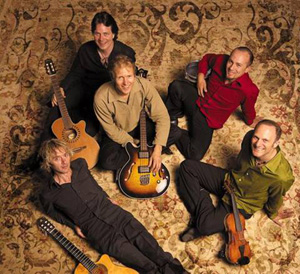 One of Canada's most exciting world music acts will hit the road in support of its brand new album Symphony! Sultans of String's sound includes vibrant roots music jams, Middle Eastern influences, Gypsy-Jazz, rumba flamenca, and global rhythms. Symphony! includes a guest appearance by The Chieftains' Paddy Moloney.
Sultans of String is represented in the United States by well-known promoter David Wilkes (Koch Records, Emmylou Harris, Bela Fleck). "I have worked with numerous top ten chart songs and #1 Pop Billboard and Country music hits", Wilkes says. "In all that time, I have not worked with composers more talented than Chris McKhool and Kevin Laliberté from Sultans of String. Not only are they a superb writing team, they are also amazing arrangers & musicians. Symphony! is a gigantic leap forward."
Previous recordings include Move, Yalla Yalla!, and Luna.
Upcoming Concerts
November 7, 2013, 8:00 PM, Abilene Bar and Lounge, Rochester, NY, abilenebarandlounge.com/Home.html
November 15, 2013, 8:00 PM, Nelson Odeon, Nelson, NY, nelsonodeon.com/calendar/
November 16, 2013, 8:00 PM, Oswego Music Hall, Oswego, NY, oswegomusichall.org/
November 17, 2013, 6:00 PM Sportsmen's Tavern, Buffalo NY, sportsmenstavern.com
December 1, 2013, 7:00 PM, Koerner Hall – SYMPHONY CD Release concert in Toronto performance.rcmusic.ca/event/sultans-string-cathedral-bluffs-symphony-orchestra
December 4, 2013, 8:00 PM, Scullers Jazz Club, Boston MA, scullersjazz.com
December 5, 2013, 7:30 PM, Mansion at Strathmore, Shapiro Music Room, North Bethesda, Maryland, www.strathmore.org
December 6, 2013, 9:30 PM, Joe's Pub in NYC, NY, joespub.com/
December 7, 2013, 7:30 PM, Building 24 Live, Reading, PA, bldg24live.com
December 8, 2013, 7:00 PM, Live @ Bridge Street Live, Collinsville CT, 41bridgestreet.com
Author:
World Music Central News Department
World music news from the editors at World Music Central