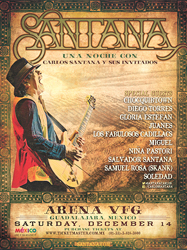 Award-winning rock, fusion and Latin music guitarist and composer Carlos Santana and his band Santana will be performing a special concert in Guadalajara, Mexico (in his native state of Jalisco) on December 14th at the Vicente Fernandez Arena. The event will feature a star-studded cast of musicians. Confirmed celebrity performances at the concert include Chocquibtown, Gloria Estefan, Los Fabulosos Cadillacs, Juanes, Miguel, Niña Pastori, Samuel Rosa of Skank, Salvador Santana, Soledad, and Diego Torres. More celebrity performances will be announced.
Santana is currently starring at a multi-year residency at House of Blues at Mandalay Bay Resort in Las Vegas with shows now going on thru November 17th. On December 8th, Carlos Santana will be awarded the 2013 Kennedy Center Honors Award.
This concert is a homecoming for Carlos and a festive kickoff event to mark his upcoming album project close to his heart titled Corazon (heart). In addition to the superstars performing at the December 14th show, Mexican-American star Lila Downs, Ziggy Marley, and Romeo Santos will also be joining Santana on this all-star album.
"I am truly elated to be involved in Carlos' first ever Latin Themed CD," said Michael Vrionis, Santana's manager and President of Universal Tone Management. "This project will have world wide appeal and features some of today's most popular artists. The music will take you on a journey that you have never experienced before. We are thrilled to be able to share this project with the world soon."
Corazon, the concert and album project will bring Carlos Santana back to his birthplace, in the city of Autlan, just south of Guadalajara. Many genres of Latin music are represented in these collaborations including pop, rock, salsa, folk, reggae, traditional, flamenco, hip-hop and bachata.
Santana's most recordings include Supernatural (1999), Shaman (2002), All That I Am (2005), Guitar Heaven (2010) y Shape Shifter (2012).
Tickets are available at Ticketmaster.com.mx
Author:
World Music Central News Department
World music news from the editors at World Music Central