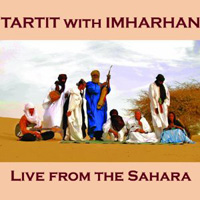 Tartit with Imharhan
Live from the Sahara (Clermont Music, 2013)
Set for release on November 12th on the Clermont Music label, two groups of the Kel Tamasheq peoples of the Sahara, Tartit and Imharhan invite the listener into the inner circle on Live from the Sahara for a bare bones listen into the music that has bubbled up from years of hard living, drought, rebellion and an endless sky days spent in refugee camps.
Live from the Sahara is part of the performances from the Festival au Desert 2012 in Timbuktu, Mali. Not so easy a task running a festival and recording performances when your country is in flux with rebels, government forces and Islamic extremists all looking to make gains in territory and influence, but these performances do stand out as a testament to sheer will and utter delight these musicians and singers take in the celebration of their people and traditions.
These desert blues groups Tartit and Imharhan have parted ways with the older Kel Tamasheq tradition of keeping strict social lines, partially a result of refugee camp living and partially due to the upheavals and war, to maintain a level playing field where craftspeople, griots and nobles come together to sing, dance and perform. It's through this music that both Tartit and Imharhan come together to not only perform, but call for an end to the conflicts and seek out a lasting social justice.
The Festival au Desert is Mali's prime meeting place for an exchange of those ideas, but it's also a chance opportunity to perform and jam with another group. Tartit, with the recordings Abacabok and Ichichila to their credit, and Imharhan, who appears on the Live from Festival au Desert, Timbuktu, come together on Live from the Sahara to share a couple of tracks.
Relying on the traditional stringed instrument called the tehardent, the hand drum called a tinde and the violin called an imzad, Tartit works through the first six tracks of Live from the Sahara. Opening with "Dehebo," Tartit launches into mesmerizing chanting vocals, handclaps and spare percussion, before offering up traditional pieces like "Diabba" and "Tagnanine." They tackle the issues of ignorance and illiteracy and a need for education on "Aljahalat" and asking for democracy on "Democratie." While some of these tracks might come off as raw and unvarnished and perhaps recorded under not optimal circumstances, the vocals and vocalizations, like ululations and something that comes across as rhythmic hissing, of Tartit prove to be potent and powerful.
The singers and guitarists of Imharhan blend their sound with Tartit on tracks "Abacabok (Part 2)" and "Dima Dima," and provide that familiar guitar-slicked sound on "Aicha Talammomt."
One of the standout tracks of Live from the Sahara, and my personal favorite, it the savagely powerful "Abacabok (Part 1)." Spare with handclaps, the tehardent and vocalizations, this track is possessed by some primal, gut wrenching vocals that any old time blues shouter would be proud of in this devotional to a Sufi great grandfather in hopes that he returns.
In another offering from the Festival au Desert, Live from the Sahara builds upon the resiliency of these musicians as they move forward in their efforts to create a new music while honoring their pasts.
Buy Live from the Sahara in North America
Buy Live from the Sahara in Europe
Author:
TJ Nelson
TJ Nelson is a regular CD reviewer and editor at World Music Central. She is also a fiction writer. Check out her latest book, Chasing Athena's Shadow.
Set in Pineboro, North Carolina, Chasing Athena's Shadow follows the adventures of Grace, an adult literacy teacher, as she seeks to solve a long forgotten family mystery. Her charmingly dysfunctional family is of little help in her quest. Along with her best friends, an attractive Mexican teacher and an amiable gay chef, Grace must find the one fading memory that holds the key to why Grace's great-grandmother, Athena, shot her husband on the courthouse steps in 1931.
Traversing the line between the Old South and New South, Grace will have to dig into the past to uncover Athena's true crime.