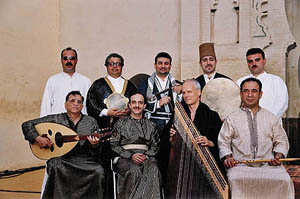 World music showcase WOMEX reported that Ensemble Al-Kindi from Syria had to cancel their official WOMEX showcase because they were denied a UK visa. Although the group is currently touring in Europe's Schengen zone, their UK visa was denied despite the efforts by the artists, their management, Cerdd Cymru – Music Wales, the Welsh Government and WOMEX, who were working with all official channels to appeal the decision.
Al-Kindi Ensemble was created in 1983 by qanun virtuoso Julien Jâlal Eddine Weiss, a French and Swiss musician. Al-Kindi Ensemble is currently rated among the best groups devoted to classical Arabic music, for its rigorous work and excellent performers. Through its numerous creations, Al Kindi explores the richness of sacred and secular music repertoire from the Middle East, Syria and Turkey.
Recordings available: The Aleppian Music Room, Takasim & Sufi Chants, Parfums Ottomans, Aleppian Sufi Trance, Whirling Dervishes of Damascus, Arab music from the time of the Crusades.
The group is scheduled to perform today, Sunday October 27th 2013 at Savoy Theatre in Helsinki (Finland) and will return to Europe April 5th 2014 to perform at the Institut du Monde Arabe in Paris (France)
Author:
World Music Central News Department
World music news from the editors at World Music Central