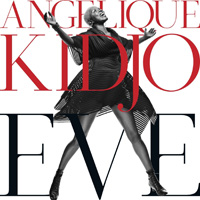 Beninese world music star Angelique Kidjo will release a new album titled Eve, a collection of songs dedicated to the power of African womanhood, predominantly those women she grew up with in her native Benin. The Grammy Award winner is also planning a tour of the United States and will be promoting the release of her autobiography, Spirit Rising: My Life, My Music.
Eve is produced by Patrick Dillett (David Byrne, Fatboy Slim). The album is named after Angelique Kidjo's mother. Eve celebrates the pride, beauty and strength of African women and their worldwide socio-cultural influence.
The recording features women's choirs from several African villages in Benin and Kenya singing in a wide range of native Beninese languages including Fon, Yoruba, Goun and Mina.
Guests include Dr. John, Rostamm Btmanglij (Vampire Weekend), The Kronos Quartet and the Orchestra Philharmonique du Luxumbourg. The band on the album includes guitarist Lionel Loueke, drummer Steve Jordan, bassist Christian McBride and Senegalese percussionist Magatte Sow.
"I've spoken for many years about the beauty of African women, and I don't need to talk anymore about it because on this recording I am letting the voices of the women show their beauty to the world," says Kidjo. "Eve is all about showcasing the positivity they bring to their villages, cities, culture and the world."
Angelique Kidjo is releasing Eve together with the release January 7th of Spirit Rising: My Life, My Music, an autobiography written with Rachel Wenrick and published by Harper Collins. The recording Eve (429 Records) will be released on January 28.
Kidjo's 2008 album Djin Djin won a Grammy for Best Contemporary World Music Album and her last studio recording Oyo was nominated in the same category. She has collaborated with leading jazz, rock and pop artists, including Carlos Santana, Bono, John Legend, Josh Groban, Peter Gabriel, Branford Marsalis, Dianne Reeves, Roy Hargrove and Alicia Keys.
Buy Eve
Author:
World Music Central News Department
World music news from the editors at World Music Central