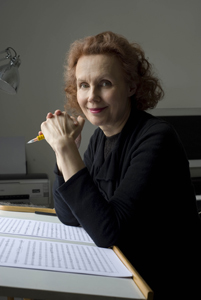 Finnish classical composer Kaija Saariaho has been designated as the next music mentor for the Rolex Mentor and Protege Arts Initiative. Saariaho joins six other outstanding artists: Olafur Eliasson (visual arts), Alejandro González Iñárritu (film), Michael Ondaatje (literature), Alexei Ratmansky (dance), Jennifer Tipton (theatre), and Peter Zumthor (architecture). These artists will offer their time and expertise to support, guide, and collaborate with a young protégé in the year ahead.
Recognized as one of the leading and most original contemporary composers, Kaija Saariaho is known for her splendid creations that fuse traditional instruments with electronics in state-of-the-art computer programs. Saariaho's chamber music, orchestral works, and operas have earned her global recognition. In 2013 she won the Polar Music Prize for her exceptional contributions to the world of music. Maan Varjot, Saariaho's latest work, will premiere in May 2014.
Kaija Saariaho's discography includes the box set Saariaho: Works for Orchestra, Chateau De L'Ame / Graal Theater / Amers, Saariaho: D'Om Le Vrai Sens for Clarinet and Orchestra / Laterna Magica / Leino Songs, Du Cristal a La Fume / Nymphea / Sept Papillons, Saariaho: Passion De Simone, Trios, Notes on Light / Orion / Mirage, L'amour De Loin, Saariaho: Private Gardens / Dawn Upshaw, Cinq Reflets De L'Amour, Graal Theater / Solar / Lichtboge, and From the Grammar of Dreams.
"These artists are all highly respected leaders in their fields," said Rebecca Irvin, head of philanthropy at Rolex. "We are grateful that they have generously offered to nurture a new generation of artists. Over the past 11 years, we have seen remarkable, enduring collaborations and friendships form between mentors and protégés. We look forward to seeing more of this rich creative dialog."
Now in its 12th year, the biennial mentor-protégé program handpicks talented young artists from around the world for the opportunity of a lifetime: to be paired with masters in their field for a year of creative collaboration. Each of the new mentors will personally select a protégé from a group of nominated finalists in the spring.
Author:
World Music Central News Department
World music news from the editors at World Music Central