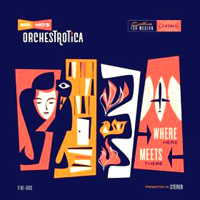 Mr. Ho's Orchestrotica Quartet
Where Here Meets There (BMI, 2013)
For those who are fans of exotica or Mr. Ho's Orchestrotica's 2010 debut album The Unforgettable Sounds of Esquivel or their follow-up Third River Rangoon, the quartet's latest Where Here Meets There is set for release on November 19th on the BMI label. Cooking up a sound that's base explores the luxuriousness of 1950s and 60s exotica, Mr. Ho's Orchestrotica Quartet flavors that base with jazz, global percussion, Brazilian influences and dashes of the South Pacific and Asia. The lush, plushy grooves on this latest recording dazzle and delight with their carefully crafted sly moves that elevate the smoothness of exotica into something meaty and delicious.
Vibraphonist and percussionist Brian O'Neill, flutist Geni Skendo, acoustic bassist Jason Davis and percussionist Shane Shanahan make up Mr. Ho's Orchestrotica Quartet, each with their own impressive musical careers. Collaborations stack up like a who's who list for these four musicians, like Archie Bell, Bert Seager, Kristin Chenoweth and Ernie Watts (Mr. O'Neill); Violent Femmes, Elena Zoubareva and Joe Morris (Mr. Skendo); Herb Pomeroy and Alan Dawson (Mr. Davis); Glen Velez's TaKaDiMi Ensemble, Bobby McFerrin, Alison Krause and YoYo Ma's Silk Road Ensemble (Mr. Shanahan). Shamelessly wielding those talents on Where Here Meets There, Mr. Ho's Orchestrotic Quartet's captures the ear by plying the listener with the free-flowing improvisation of jazz, global rhythms and sounds, as well as tried and true structures found in chamber music.
Mr. O'Neill explains, "Each piece is either an original work heavier on improv, dissonance, moodiness, jazz, and escapism; or a scaled-down classical work we put into a chamber music context, often with humorous additions and perhaps a little jazz or global sounds to surprise the listener. Those are the 'Here' and 'There,' respectively, from the album title."
"As the series title suggests, we don't really describe our sound as vintage 'exotica'," Mr. O'Neill goes on to add. "Exotica of the past was often kitschy, harmonically and rhythmically tame, and heavily reliant on sound effects and Hollywood-style arranging to transport the listener. But I love the root of the genre: being an outsider who invents imaginary moods and places through music. I think our sound is a modern upgrade on the past rather than a tribute; an interpretation we call 'global jazz and exotic chamber music.'"
With stand-out tracks like Where Here Meets There's opening track "Chiseling Music" or the percussion-rich "Sansaz" or the delicious "Would You Like Bongos With That Fugue?" with guest percussionist Noriko Terada, this recording delves deep into the world of exotica, providing enough musical twists and turns to keep it from being just a background music album. Tracks thrum with acoustic bass, cajon, doumbek, riq and frame drum while the imagination skates on the ride of the vibraphone. Lacing the whole with flashy flute lines makes the ride all the more stunning.
The quartet also offers up goodies like "Prelude for Piano I" by George Gershwin and the sultry "Prelude for Piano II" that features the "Siamese Cat Song," that's sure to make you little inner kitty purr. Where Here Meets There closes with another gem "Black Orchid," which also features guest musician Tev Sevig on the oud.
Sleek and silky Where Here Meets There is a certainly a must for exotica fans.
Buy the Where Here Meets There MP3s
Author:
TJ Nelson
TJ Nelson is a regular CD reviewer and editor at World Music Central. She is also a fiction writer. Check out her latest book, Chasing Athena's Shadow.
Set in Pineboro, North Carolina, Chasing Athena's Shadow follows the adventures of Grace, an adult literacy teacher, as she seeks to solve a long forgotten family mystery. Her charmingly dysfunctional family is of little help in her quest. Along with her best friends, an attractive Mexican teacher and an amiable gay chef, Grace must find the one fading memory that holds the key to why Grace's great-grandmother, Athena, shot her husband on the courthouse steps in 1931.
Traversing the line between the Old South and New South, Grace will have to dig into the past to uncover Athena's true crime.