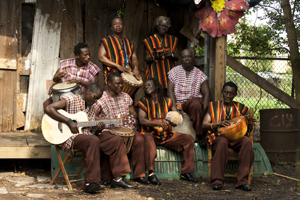 Sierra Leone's Refugee All Stars' success story is one of the most inspiring in the annals of world music. It is a tale of indomitable spirit and irrepressible talent and how a band formed by refugees of a brutal civil war became not only a champion of pan-African music but also one of the globe's great bands, per se.
No one who has experienced the Refugee All Stars' irresistibly uplifting performances would be surprised by their ascendancy to the top tier.
Despite spending considerable time overseas, the All Stars' feet remain firmly planted in their homeland. If founder member and driving force Reuben Koroma's idea of success is measured in monetary gain it is only because that means he can fulfil one of his and the band's principal ambitions. Koroma has long had it in mind to build a music school in the now peaceful but still poverty-stricken Sierra Leone capital of Freetown, to which he has returned to live.
Koroma knows from his late 90s' days in refugee camps in Guinea, where he had fled to avoid the carnage in his home city, the therapeutic value of music. "When we started playing in the camps, we saw that people were transformed. Most of the people who were so sad become happy. At first, we did it for ourselves, but when we started playing and we continued to play, we saw that thousands of people were enjoying it and, well, they really reacted positively."
Although four original members have sadly passed away, the All Stars, under their dynamic leader, have continued to go from strength to strength since their unique genesis.
After the international success of their last two albums, 2010's Rise & Shine and 2012's Radio Salone, which were guided respectively by Steve Berlin and Victor Axelrod, it had been expected that the band would turn to another high profile American producer to maintain the trend.
Surprisingly, the as-yet nameless and unreleased fourth album, was produced by Canadian singer-songwriter Chris Vilen, the man behind the music on the award-winning 2006 documentary Living Like A Refugee — a film that chronicled the All Stars' origins and helped catapult them on to the world stage — and their debut album of the same name.
During a call to the band's temporary base in the USA, Koroma revealed that the new album, to be released in the first half of 2014, comprises five reggae-oriented tracks and seven African-accented numbers that include what he terms "Sierra Leone soko beats and palm wine music".
Reaffirming his love of reggae, the bandleader declares: "I'm the biggest fan in Sierra Leone! I love Bob Marley, Jimmy Cliff and Third World's music. Reggae is loved in Sierra Leone. It's seen as a music that is to do with liberation of the people, so it's seen as music of deliverance." Koroma concedes that the All Stars' brand of reggae has also been influenced by an age-old West African rhythm known as baskeda. "That was my father's music," he says. "I used to love it when I was a kid, so when I grew up I just tried to compose songs in that rhythm."
Explaining the band's impressively wide range of pan-African styles, which also includes afrobeat, high life, gumbe and soukous, Koroma says that Sierra Leone is a very rich musical country. "Freetown is seriously multi-cultural," he stresses.
The Refugee All Stars' uplifting, up-tempo songs of hope, faith and joy certainly reinforce the redeeming power of music. It's no wonder their life-affirming story and captivating music is in such demand around the planet.
"It's been a long struggle out of the war, out of miserable conditions," notes Reuben Koroma. "We try to bring out sensitive issues that are affecting the world, but we put out positive messages, so we can expect a positive change in the world."
• The above interview first appeared in Rhythms — Australia's only dedicated roots music magazine, for which the author is World/Folk correspondent.
Author:
Tony Hillier
Tony Hillier is based in Cairns in far north Queensland, from where he has been actively involved in all areas of the music industry in Australia for the past 25 years, primarily as a journalist, writing for national publications such as the Weekend Australian and Rhythms magazine (for which he is World Music & Folk correspondent), and performing locally, nationally and internationally with the bands Kamerunga and Snake Gully. He has also presented and produced World Music and Folk music programs for ABC Far North, Port Douglas Radio and 4CCR-FM, netting a CBAA Best Specialist Music Program Award with the last-named for a documentary on flamenco. Before coming to Australia, he was a racing journalist of some repute in the UK, where he wrote a column for the London Evening Standard under the nom-de-plume of Ajax.