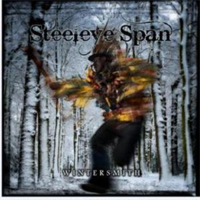 Legendary English folk-rock band Steeleye Span has recorded a new album titled Wintersmith that will be released on October 28, 2013.
Steeleye Span is one of the most influential bands in contemporary English folk music. The band returns with the celebrated vocalist Maddy Prior, the voice of Steeleye for 40 years. Maddy is at the helm of the line-up that includes outstanding fiddler Peter Knight, Rick Kemp on bass, Peter Zorn and Julian Littman on guitars, and Liam Genockey on drums.
Steeleye Span have found inspiration in the work of famous British author, Terry Pratchett. The new album is a collaboration based on Pratchett's 'Wintersmith' novel about a tale of ancient rituals and secret folk dances. Terry Pratchett is best known for his popular Discworld novels. Terry is a long-standing fan of Steeleye Span and even booked them to play at his sixtieth birthday party.
Wintersmith features special guests: Northumbrian piper Kathryn Tickell, Bellowhead's John Spiers and Pratchett himself providing spoken word.
Buy Wintersmith in Europe
Author:
World Music Central News Department
World music news from the editors at World Music Central