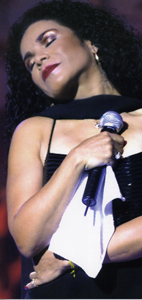 Eva Ayllón, one of Peru's most beloved stars, is set to perform at Royce Hall in Los Angeles on Saturday October 19, 2013 at 8:00 p.m. Ayllón is one of Peru's best known stars. Known for her vibrant stage personality and spectacular dance moves, the "Queen of landó" (a traditional Afro-Peruvian musical form) infuses her music with colorful sounds from the coastal area of Peru, as well as her country's indigenous, African, and Spanish musical heritage. The resulting style is a powerful sound with call-and-response forms, complex syncopation, and poly-rhythms with sweet, melancholic melodies.
Since the 1970s, Eva Ayllón has established herself as one of the leading exporters of Afro-Peruvian music. Ayllón focuses on the elegant and lively genres of the coastal plains of Peru. She is best known for singing the landó, the festejo, and the vals, all mestizo blends of Peru multicultural musical heritage. Eva's recording career spans 30 albums, five Latin Grammy nominations, and multiple performance sell outs including the legendary Carnegie Hall.
Eva Ayllón's albums available out side Peru include Eva Leyenda Peruana, Kimba Fa.
Tickets ($35-$65) are available via cap.ucla.edu, Ticketmaster or the UCLA Central Ticket Office (310.825.2101).
Author:
World Music Central News Department
World music news from the editors at World Music Central