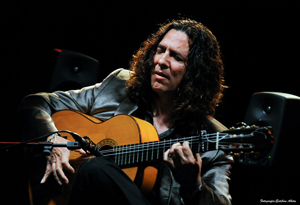 Prominent flamenco guitarist Tomatito is the winner of the Premio de Cultura 2012 (2012 Cultural Award) given by the Madrid Regional Government in the Music Category.
Tomatito is the artistic name of flamenco guitarist José Fernández Torres, born in Almería (1958). He performs traditional flamenco as well as jazz-infused flamenco. His professional debut took place at age 10 when he appeared as accompanist at the Peña el Taranto de Almería (peñas are traditional flamenco clubs) hosted by José Sorroche.
He played on stage accompanying Paco de Lucía and performed with the legendary cantaor (vocalist) Camarón de la Isla for 18 years. Throughout his career he has shared the stage with Frank Sinatra, Elton John, Neneh Cherry, John McLaughlin, Irakere and Chick Corea.
Tomatito has performed at leading international festivals in Montreux, New York, Basilea, Istambul, Lyon and Almería.
Tomatito has released several albums as a solo performer. He also recorded with pianist Michel Camilo and guitarists Elliot Fisk, Joan Bibiloni and Larry Coryell. His discography includes Rosas del Amor (Hispavox, 1987), Barrio Negro (Nuevos Medios, 1991), Guitarra Gitana (Nuevos Medios, 1996), Spain, with Michel Camilo (Polygram, 2000), Paseo de los Castaños (Universal Music, 2001), Aguadulce (Universal Music, 2004), Spain Again, with Michel Camilo (Decca, 2005), and Sonanta Suite, with Josep Pons (2010).
In 2013 he released his latest album, Soy Flamenco, which features a guest appearance by Paco de Lucía.
Author:
World Music Central News Department
World music news from the editors at World Music Central