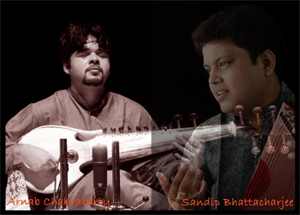 Sarod master Arnab Chakrabarty from the UK and vocalist Sandip Bhattacharjee from India are set to perform on Thursday, October 10, 2013 as part of New York City's India Music Week.
Arnab Chakrabarty will be accompanied by Sameer Gupta on tabla. Their set begins at 8:00 pm. Sandip Bhattacharjee will be joined by Nitin Mitta on tabla. Their performance starts at 9:30 pm.
Arnab Chakrabarty (Shahjahanpur Gharana) is one of the most skilled sarod players in the world and as a classical purist on his instrument, has few equals. A relentlessly self-improving student of music, a teacher of extraordinary ability, an instrument designer, restorer and maker of considerable skill, Arnab Chakrabarty is the complete sarod musician of his generation.
Arnab received his initial training from maestros Brij Narayan and Buddhadev Dasgupta, and has supplemented his musical education with vocal training from Pandit Yashwantbuwa Joshi and sitar music from Vinayak Chittar, an inimitable sitar maestro. Trained by the late Kalyan Mukherjea, a disciple of Radhika Mohan Maitra, the legendary custodian of the Shahjahanpur tradition of sarod music, Arnab is described by his teacher as "the best representative today, of the musical values I had inherited from Pandit Maitra".
Sandip Bhattacharjee (Kirana Gharana) is a residential scholar at the ITC Sangeet Research Academy under the Guidance of Ustad Mashkoor Ali Khan & Ustad Mubarak Ali Khan, the guru of Kirana Gharana from May 2002. He secured the second position at All India Radio Music Competition (1999) in Khayal besides standing First at the West Bengal State Music Competition 2001 in Bhajan. Sandip Bhattacharjee was also a recipient National Talent Search Scholarship, Govrnment of India in 2001. An "A" Grade Performer of All India Radio, Doordarshan & ITC Sangeet Research Academy, Tollygunge, Kolkata.
The concerts will take place at Tea Lounge
837 Union Street, Park Slope, Brooklyn, NY
(Subway: 2/3 to Grand Army Plaza)
Suggested Donation: $15
More information: www.HarmoNYom.org
Author:
World Music Central News Department
World music news from the editors at World Music Central