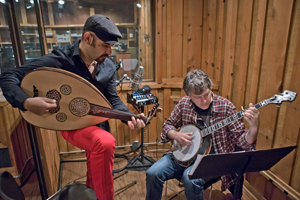 If you asked a panel of suitably qualified referees to nominate the Australian musician who punches highest above his weight, age and chosen instrument, one who's pound-for-pound the best-performed home based player on the international circuit, they'd assuredly name Joseph Tawadros.
Ask the wisecracking young maestro of the ancient Arabic oud what he thinks of that rhetoric and he'd probably respond by pointing to the colossal number of kilograms he's shed from a once bulky frame, rather than endorse himself as a heavyweight of the roots music world. This inveterate pun-lover might even extend the metaphor by borrowing a word from the title of the latest in a line of superlative albums that carry his name, and suggest that he's only shadow boxing.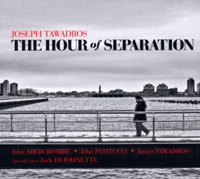 Truth is the newly slim-lined Sydney resident has been trading blows with global elite as he sashays towards his thirtieth year. The Cairo-born player/composer has retained a wry and wickedly self-effacing sense of humor. Anyone who heard his acceptance speech at last year's Fine Arts ARIA awards presentation, or has attended one of his concerts, will no doubt concur. Receiving a long overdue Aussie Grammy equivalent for best World Music album, after a string of near-misses, the virtuoso of the pear-shaped lute quipped: "I think it's great the music industry is finally trusting an Arab with a sharp object, although I'm not sure what an Egyptian is going to do with another pyramid". Another pyramid is literally what he got because his name had been misspelt on the original statuette! "I guess I'm a multi-ARIA winner now," he adds with a wry laugh.
In this scribe's opinion, Joe Tawadros should have been awarded an ARIA the previous year for The Hour Of Separation, a sublime album that he and kid brother James cut in New York city in 2010 with three of America's most distinguished jazzmen — guitarist John Abercrombie, bassist John Patitucci and Jack DeJohnette, drummer of choice for leviathans such as Miles Davis, John Coltrane and Thelonious Monk. Instead, it was a classically inclined album, Concerto of The Greater Sea, recorded several years earlier with Richard Tognetti and the Australian Chamber Orchestra (but not released until 2012) that broke his duck.
Now that he's managed to wrench the monkey off his back, it's short odds he'll be back on the winner's rostrum at next year's ARIA presentation for Chameleons Of The White Shadow. Joe's most adventurous album yet, in what has been an upward progression of excellence, was recorded at the same New York studio as The Hour Of Separation two years before and with an equally stellar guest list of American 'A' team players, headed by the grand wizard of modern banjo, Béla Fleck. Three giants of US jazz — Joey DeFrancesco, DownBeat magazine's 'Organist of the Year' for ten consecutive years, and those septuagenarian supremos of vibraphone and tuba, Roy Ayers and Howard Johnson — figured in support roles. Cameroon-born bass ace Richard Bona and James Tawadros, a genius on the tiny req (Egyptian tambourine) and bendir (frame drum), helped stoke the engine room.
For those yet to sample its treasures, the latest set contains music that's cerebral, soul searching and utterly stimulating. Exquisite musicianship is a salient part of the album's appeal. To turn a noun from the title into an adjective, the playing is chameleonic, with all contributors adapting and responding symbiotically to the leader's cues and painstakingly crafted compositions and arrangements. The dialogue between oud and banjo in pieces such as 'Street in Sarajevo' and 'Freo' is especially invigorating, featuring rapier runs, elegant figures and nigh-telepathic exchanges as both string-benders stretch out in pursuit of the mythic titular 'White Shadow'. Styles criss-cross and blend seamlessly in Chameleons Of The White Shadow, world music, jazz, classical, bluegrass melding into a creation of amorphous beauty.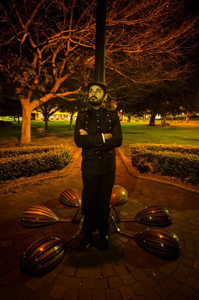 Tawadros concedes that his tenth album has exceeded expectations. "It was hard with the mix of instruments we had but I think we created something special and something that works really well." As he points out, Hammond organ, banjo, vibraphone and tuba didn't exactly sound like natural companions for oud on paper. "We made it work," he stresses. "Between the seven players on the album if something didn't sound right someone would have said: 'Hey, this sounds like shit' [laughs]. The thing is you don't to need add very much to make it work if you have great ingredients." Joe maintains it's about composing to people's strengths. "If you give people things that they're strong at, the music will be strong. I didn't give the players anything they weren't familiar with. The most important thing is everyone knowing his role. Of course you run the risk of egos getting in the way as well. But musicians of their nature and attitude know what they're supposed to do, and that's what makes them who they are. They're successful for a reason." He says the musicians were able to adapt to each other and inspired each other. "From the first notes playing together we knew it was on. We were collaborating on many different levels. Getting it to work so well I guess is a reflection on the level of musicality."
Joe's stellar collaborators seem equally happy with the outcome. "They really like the album and enjoyed being part of the project," he reports. "Joey had never really played with an ethnic instrument, so he was stoked. When you get professional players of their calibre together, they just want to do the best job. They want to be true to this art we're creating. They're there to give their soul." Despite conceding international standing and seniority, Tawadros is adamant that he was never overawed in his approaches or had any doubts about his musicianship or modus operandi. "You can't be nervous and hesitant when you're playing with guys of this calibre. I've always believed that the stuff I've created has been quite discerning. I've never been intimidated. I've been more excited to collaborate … the musicians that I get are ones that love music. They're not there for the wrong reasons. This music is not lucrative. They're not getting paid amazing amounts of money. They're really there for the project. After long careers, they're still interested in exploring other parts of music and that's inspiring to me. The great thing about it is that you get to meet as well as play with your heroes."
Béla Fleck was high up on the list of musicians that Tawadros had always wanted to work with, although he harboured doubts whether the banjo legend would be interested in his project. "I'd been chasing him for years because I thought we shared a very similar passion in a way," Joe confides. "We're both kind of seamless collaborators and not afraid to try new territory. I'd been sending emails to his management and never got a reply." Joey DeFrancesco, the second guest to come to the party, was the conduit. "He passed my message on to Béla and a couple of days later I got an email from him asking what's up. That's how we got the ball rolling."
Christian McBride, who holds an equally exalted position in world jazz circles, was originally scheduled to play double bass on the session, but had to back out at the eleventh hour. "Richard Bona came on deck in the last week and learnt the repertoire really fast," Tawadros imparts. "Howard Johnson also jumped on board in the last week. Roy Ayers agreed two weeks before the recording." Although he ended up with a different bass vibe, electric rather than acoustic, the session went well, aided by Joe's assiduous prep work. "I recorded MP3s of what I thought the music should sound like. I would talk on the MP3s, saying things like: 'Béla's solo here' and 'I want this' or 'here or I want that'. Of course, the players have their own ideas, so when you workshop it, the music grows. Béla and the guys were amazing. We only had one day rehearsing and one day recording booked, so we had to be as prepared as we could before we got to the studio because it's a very stressful time."
Tawadros expands: "When you only have one day to record seven tracks, you have to do it all live. It's stressful enough having to organise people's accommodation and travel, then getting the music together and scoring it, and all that stuff, and rehearsing. But then you have to actually record it. You forget that the last thing you have to do is actually play and get in the zone. The other musicians don't really have anything invested in it except playing music. They get to shine. Take Béla's contribution, for instance. He's really adding so much to the music and that's because I think he has the freedom to try different things within it. When you're a sideman you play differently; you get to explore a bit more, take a few risks. When it's your recording, you've gotta play a little bit safer."
Although Joe admits the financial outlay involved in making independent albums in New York is daunting, he says the rewards outweigh the expense. "I get a little bit of help from some people and the album's licensed to ABC (Australian Broadcasting Corporation), so they give you an advance. But it never really covers the cost. As long as it breaks even, it means you can do the next project. It just seems to work and that's a blessing in itself. It's an investment … you're investing in yourself and you can't put a price on the experience. I don't really see it in a financial sense. It's just a question of can we do the project?"
Tawadros is clearly a man on a mission. To cannibalise the Star Trek mission statement, maybe it is to take his instrument where no oud has gone before. "I'm a person who has a short attention span, so I'm always challenging myself with new projects, and taking oud into new territory is definitely the idea." One potential future project involves a mix of oud and heavy metal-style guitar. That might not be as outlandish as it sounds, given both styles favour the use of Middle Eastern scales. "I've thought about recording with some sort of shred guitarist, maybe Slash or John Petrucci," Joe reveals. "It wouldn't need to be that loud or rocky; it would be a matter of applying their amazing technique and feel to anything I might be able to create." He likens collaboration to cooking. "If you get great ingredients, you don't really have to do much. You just have to know how to prepare it and let styles infuse together in a way. I'm in a great position to get great ingredients on my albums. Obviously there's a lot of work involved in making it all happen, but when the tools are already there, it's a much easier platform."
Tawadros also has in mind a project with French accordionist Jean-Louis Matinier, who contributed to the last album. He'd also like to renew his Hour of Separation association with John Abercrombie, a guitarist he greatly admires, and work with Kayhan Kalhor, an Iranian kamancheh (Persian fiddle) player. Singing is also something he wants to explore down the track: "I've just finished a tour with The Song Company, six voices and the oud. That was haunting and we got a great response and great reviews."
Whatever direction he decides to take, you can bet Joseph Tawadros will keep on collaborating. "It's a question of keeping myself fresh and challenging myself," he says. "I listen to all the players that I collaborate with and love their music. It's a real privilege that I get a chance to play with them. I've been very lucky to get those platforms, but that's all through my love of my instrument and my love of music, mixed in with a bit of luck and the way the world brings people together." Long may 'The Force' be with him.
• The above interview first appeared in Rhythms, Australia's only dedicated roots music magazine, for which the author is World/Folk correspondent.
Author:
Tony Hillier
Tony Hillier is based in Cairns in far north Queensland, from where he has been actively involved in all areas of the music industry in Australia for the past 25 years, primarily as a journalist, writing for national publications such as the Weekend Australian and Rhythms magazine (for which he is World Music & Folk correspondent), and performing locally, nationally and internationally with the bands Kamerunga and Snake Gully. He has also presented and produced World Music and Folk music programs for ABC Far North, Port Douglas Radio and 4CCR-FM, netting a CBAA Best Specialist Music Program Award with the last-named for a documentary on flamenco. Before coming to Australia, he was a racing journalist of some repute in the UK, where he wrote a column for the London Evening Standard under the nom-de-plume of Ajax.