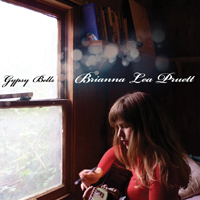 Brianna Lea Pruett
Gypsy Bells (Canyon Records, 2013)
Singer-songwriter Brianna Lea Pruett debuts with Gypsy Bells on Canyon Records. Equal parts contemporary folk and bluegrass, Pruett focuses on the personal canvas of young love and friendship. Her well-crafted songs are backed by guitar, lap steel, bass, drums and flute. I'm reminded of Navajo singer-songwriter Sharon Burch's contemporary folk and the 1970s American folk diva, Laura Nyro, especially on the tracks, 'New Life' and 'Seeds of Love.' ' Marry that Boy' recalls the old folk standards once sung by Odetta, and Barbara Dane. Michelle Lee's flute adds a nice touch to the song as it weds the lilting vocals.
Pruett claims Cherokee as one of her nationalities and on the track, 'Red Jacket' she appears to addresses her Native American ancestors and tradition. And on 'Sun on the Mountain,' she tells a story about an Indian man from South Dakota. Gypsy Bells features catchy folk tunes composed and performed by an exceptional young talent. This debut album is going to turn heads.
Buy Gypsy Bells
Author:
PatriciaHerlevi
Patricia Herlevi is a former music journalist turned music researcher. She is especially interested in raising music consciousness. She is looking for an agent and publisher for her book Whole Music (Soul Food for the Mind Body Spirit). She founded and hosts the blog
The Whole Music Experience and has contributed to World Music Central since 2003.