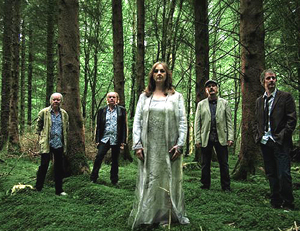 The UK's Irish Ambassador hosted A Celebration of Forty Years of Clannad coinciding with the release of the band's new album titled Nádúr. The celebration marked the first event hosted at the embassy by the new incumbent Ambassador Daniel Mulhall and his wife Mrs. Greta Mulhall.
"Clannad have been cultural ambassadors for Ireland for the last forty years," said Ambassador Daniel Mulhall.
The evening was highlighted by a performance by Clannad – siblings Moya, Pól and Ciarán Brennan, and their twin uncles Noel and Pádraig Duggan – who performed their classic Theme from Harry's Game, as well as two songs from their new album Nádúr, to be released on September 23rd on the ARC Music label.
Named after the Gaelic word for nature, the album sees the coming together of the full original line-up of the band for the first time in 25 years, the last being 1989's Past Present. Pól had left the band following that album's release, while the band continued to release several albums, most recently the Grammy winning Landmarks in 1998.
"Clannad were really the first group who actually embraced our Gaelic traditions, the Donegal Gaeltacht, and turned those into part of the cultural heritage of the world," stated Ambassador Mulhall . "We in Ireland have a great advantage that, although we're a small country, our cultural footprint around the world is much bigger than you would expect from a country with our small population. Why do we have such a footprint? [It's because] we have a culture, a literature, a musical tradition and dance that projects our country onto the world stage and makes people have an interest in Ireland because they enjoy our music.
People who enjoy the music, they tend to come to Ireland as tourists, they buy houses in Ireland, and they develop a genuine interest in our country. So Clannad have really been cultural ambassadors for Ireland for the last forty years."
Ambassador Mulhall also spoke of Clannad's influence on his personal life: "When I met my wife Greta… how did I make my first impression? I read her the poems of W.B. Yeats, and I played her the music of Clannad. And it seemed to work very well."
The event, by invitation only, was attended by leaders of the UK's Irish community, well known Irish figures and celebrities, dignitaries and journalists.
Clannad are the legendary Irish family group responsible for such timeless music as 'Theme From Harry's Game', 'In A Lifetime', 'I Will Find You' and the soundtrack to the 'Robin of Sherwood' TV series.
Over the decades, Clannad have made music that interweaves the traditional and the modern, the past and the future, with stunningly beautiful results. With their haunting songs, mesmerizing vocals, and captivating sound the group has sold over fifteen million records worldwide.
Buy Nádúr in North America
Buy Nádúr in Europe
Author:
World Music Central News Department
World music news from the editors at World Music Central