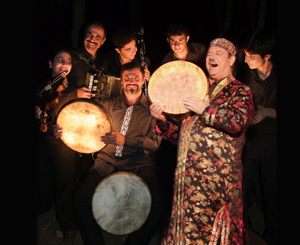 Allo Alaev's life changed for the better back in 1991 when escalating belligerence in his native Tajikistan, following the break-up of the Soviet Union, prompted the master percussionist to emigrate to Israel with his family. As members of a minority Jewish population in an overwhelmingly Muslim country, it was a logical decision to relocate from Central Asia to the Middle East state, and the patriarch and his multigenerational ensemble wasted no time garnering a loyal local following.
In a less obvious move 20 years later, Alaev linked up with Balkan Beat Box's co-founder and programmer Tamir Muskat, a man more closely associated with electronic beats than ethnic music. Since releasing the album that bears both their names, the world has been an oyster for the octogenarian drummer and his dynamic family band.
"The impact of Muskat's work with us has been huge … he was the correct man to work with in all senses," confirms Alaev's grandson Zvi, one of six family members in the 8-piece ensemble. "The Alaev Family had performed abroad a few times, but since the project with Tamir we have had many tours, and played world music festivals all over Europe and in the USA and at WOMADelaide in Australia."
The success of The Alaev Family & Tamir Muskat album has even resulted in an award from the Israeli president as recognition of the band's contribution to local culture. "Since our arrival in Israel, we have not had many days without work … television shows, radio, as musicians on stage at Habima National Theatre and many more projects in schools and around the country," Zvi reports. In general, he says their audience is not drawn from their own community, which is small. "Nowadays, we have a new audience — mostly between 20 and 35 years of age," he adds proudly.
It's really no surprise that The Alaev Family has attracted such a strong youth following. Half of the band's current line-up belong to the younger generation, and while their music might be based on ages-old folklore, it's modern sounding with an up-tempo effervescence that is dance inducing.
The band's music is not readily pigeonholed. Zvi Alaev explains: "As Central Asia is our roots, it is obvious that this is our basis, but we have some Balkan and Russian influences and we've even done a Bob Marley piece and added Tajiki rhythm to it, and I do a rap version of a Moroccan Khaled song. We do a few songs in Hebrew or half Hebrew and half Tajiki and in Uzbeki language. One song is in Turkish and there's even one in gibberish! We connect to many styles in Israel … Klezmer, Balkan and Oriental." In simple terms, he stresses the band plays music that they enjoy playing and which makes them and the audience happy. He likens a typical Alaev Family gig to a Bukharian wedding feast: "A boost of energy and joy featuring great young and old virtuosos."
The Alaev Family band members, whose age ranges from eight to eighty, perform on a variety of percussion instruments, including the doyra (Uzbek frame drum), darbuka (goblet drum) and cajón (Peruvian box-shaped drum), augmented by accordion, clarinet, violin and bass guitar.
Almost the entire band sings. "Ariel is the lead singer, but many of the songs are call & response style and everyone joins in, even the bass player!" says Zvi, who reports that all but two of the band are closely related. "It started with Allo and Yaakov, his brother. They performed years together with great success. When the three children were born — Ada, Amin and Ariel — they were educated in music and it was natural they should join in as well. They all had basic training in drumming and later developed in classical music in conservatory. When the grandchildren came along, it was obvious they all had a good musical ear, so we continued the tradition."
Allo Alaev, who performed in the Folk Opera Company of Dushanbe in Tajikistan for many decades, is recognized as one of the most important links to the old music of Tajikistan and the Jewish music of Bukhara in neighboring Uzbekistan. "It is said that this rhythm, frequently in 6/8 beat, was brought in to Bukhara from Moroccan rabbis, who came to the region many hundreds of years ago," says Zvi. "Many of the songs are Sufi poems and about love and the divine."
In his heyday Alaev senior, a maestro on the doyra, used to play five drums simultaneously. These days he manages three at the same time. Not that he drags his heels! "Allo is extremely fit for his age," his grandson reports. "The stage has been his life since the age of 10. He's the leader and decides most things in the family but the grandchildren have great input now and grandfather is more than willing to try new things."
• The above interview first appeared in Rhythms — Australia's only dedicated roots music magazine, for which the author is World/Folk correspondent.
Recordings available: The Alaev Family and Tamir Muskat
Author:
Tony Hillier
Tony Hillier is based in Cairns in far north Queensland, from where he has been actively involved in all areas of the music industry in Australia for the past 25 years, primarily as a journalist, writing for national publications such as the Weekend Australian and Rhythms magazine (for which he is World Music & Folk correspondent), and performing locally, nationally and internationally with the bands Kamerunga and Snake Gully. He has also presented and produced World Music and Folk music programs for ABC Far North, Port Douglas Radio and 4CCR-FM, netting a CBAA Best Specialist Music Program Award with the last-named for a documentary on flamenco. Before coming to Australia, he was a racing journalist of some repute in the UK, where he wrote a column for the London Evening Standard under the nom-de-plume of Ajax.