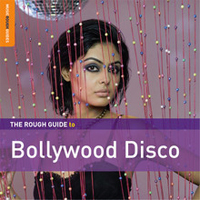 Rough Guide to Bollywood Disco (World Music Network, 2013) [digital release only]
Jaipur Kawa Brass Band – Dance of the Cobra (World Music Network, 2013)
Debashish Bhattacharya and Friends – Beyond the Ragasphere (World Music Network, 2013)
The history of India and the West is long, uneven, and incredibly complicated. From the occupation of Alexander the Great through peaceful trade with the Roman Empire, the abject plunder and brutality of the colonial period, and modern India that sports skyscrapers, the world's largest film industry, and a vibrant global economy, India's cultural production has been intertwined with the West for millennia.
Many think of India's music in the West through the eyes of traditionalism – a half-century legacy of Europe and America's fascination with the raga traditions of Ravi Shankar, Akbar Ali Khan, Zakir Hussein, Nusrat Fateh Ali Khan's qawwali, and the art of other master musicians who have graced stages worldwide. We tend to imagine that Indian music is pure and ancient, a pristine reserve untainted by colonization and the headlong rush towards modernity and development. But that is precisely what makes Rough Guide's latest releases so intriguing: all three feature the genres of Western music that are enthusiastically practiced by Indian musicians: disco, brass band, and jazz/world fusion. While showcasing unarguable musicianship, the three also display a legacy of Indian invention and cultural hybridization that confound simple narratives about Indian music and the West.
The Rough Guide to Bollywood Disco chronicles India's love of American disco records in the 1970s and its integration into an already booming film industry, hungry for new dance beats and moves to inject into their legendary song-and-dance numbers. The tracks vary from comical to dramatic, and provide generous helpings of both kitsch and the virtuosic musicianship associated with the Bollywood recording industry. While those unacquainted with the Bollywood genre can enjoy the craftsmanship of the album, the impeccable vocal delivery, and joie de vivre that makes Bollywood so irresistible, those who are followers will hear familiar voices like Kishore Kumar and Nazia Hassan in charmingly vintage style. Bollywood Disco offers a history, compilation and greatest hits all in one package, an artful rendering of India's largest popular industry idiosyncratizing a uniquely American sound.
If disco is the injection of new sounds into an existing mediascape, Jaipur Kawa is the adaptation of a musical genre whole-cloth. When Europeans set up trading settlements and military installations in India, they introduced the brass band. Initially used to martial men for marching exercises and displays of force, Indians took the instruments and ensembles, and transformed them. Brass bands now accompany weddings, national holiday celebrations, birth celebrations, and religious ceremonies.
Assembled by talented folk and traditional musician Hameed Khan, the Jaipur Kawa Brass Band pumps high energy, brash sentiment, and sugary sweetness into a widely varied repertoire that spans Bollywood, folk and dance tunes. With bombast, panache, improvisation, and a show that pitches its ensemble of master Romani musicians from Rajasthan and a Kalibelia dancer (the same people known to Orientalists as snake charmers), the Jaipur Kawa's Dance of the Cobra is a fascinating example of globalization, self-exoticization, suave presentation, and superb musicianship.
Perhaps the most complex of the three releases is virtuoso slide guitarist Debashish Bhattacharya's foray into jazz fusion. Bhattacharya's career in some ways was already fusion, as he adapted the slide guitar to the traditional system of raga, performing both the traditional repertoire and collaborating with other virtuoso performers like guitarists Bob Brozman and Martin Simpson. In Beyond the Ragasphere, he pushes his collaborations into overdrive, stacking the album with heavy-hitting fusion guitarist John McLaughlin, Jerry Douglas, Adam Del Monte (whose tasteful rhythmic flamenco accompaniments and flashy flourishes are some of the album's highlights) and drummer Jeff Sipe.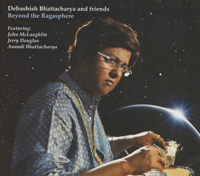 While the product lacks some of the fire of Bhattacharya's earlier recordings and performances, he has uncovered a lyrical side that was previously underrepresented. The final track on the album, 'Ode to Love', showcases honeyed melodic improvisations that could rival Chet Baker. He also experiments with color and arrangement in ways his earlier trio did not afford him. It is fulfilling to see a journeyman musician who has toiled on the edge of international world music success get the support of well-known musicians like McLaughlin and Douglas, but I will confess that I miss his earlier work with its abject virtuosity and flair.
These three albums project an interesting picture of musical India: a place that keeps one ear on tradition, nurtures its own unique styles, but is unabashed about borrowing and indigenizing musical forms from around the world. It also shows a place in beautiful flux – from the dance stages of multi-million-dollar movies, to rural weddings and the concert halls of both the West and its own cosmopolitan metropolises. Rough Guide's latest releases paint a sonic picture that is wholly unique and enthralling.
Author:
Justin Patch
Justin Patch is an ethnomusicologist currently teaching in upstate New York. He has written about music since 2006 in papers in Texas and New York, and has covered country, Americana, pop, hip-hop, post-rock, classic rock and indie for a variety of publications.