As a teenaged trumpeter in Cuba back in the mid '60s Arturo Sandoval dreamed of one day meeting his idol, American jazz legend Dizzy Gillespie. What eventually ensued was way beyond his wildest dreams, the stuff of a Hollywood movie script that the story was actually destined to become.
The pair came face-to-face for the first time in the late '70s when the man credited with bringing Latin influences into US jazz visited Havana. Sandoval was assigned the job of showing him the city. At the time, Gillespie had no idea that he was being ferried around by a musician, let alone a fellow trumpeter who could match his own brilliance. When Dizzy heard his chaperone play, he was blown away.
The flamboyant trumpeter famous for trademark beret and bent horn not only went on to become Sandoval's teacher, mentor, band-mate, close friend and confidante up until his death in 1993 but, more fundamentally, Sandoval's savior … as his protege explained in a telephone interview with your correspondent.
"Dizzy saved my life; he set me free," declares Sandoval in Spanish accented English. "He brought me to the States for the first time in 1978 and he helped me with the whole process of getting political asylum ten years later." Sandoval, like other Cuban jazz musicians of the time, led an oppressive existence under the austere communist regime of Fidel Castro. He harbors absolutely no regrets about leaving his homeland. "I regret the fact that I couldn't leave before," he says with some vehemence when quizzed on the matter, even though he concedes he enjoyed the benefit of a classical musical education in Cuba. He has not been back to the Caribbean island since. Although, a few relatives still live there, all his close family now reside in the US, where Sandoval became a naturalized citizen in 1999.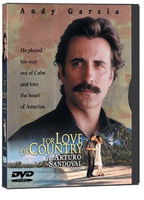 Arturo Sandoval's life story was the subject of a well-received 2000 TV film (and subsequent video release) For Love or Country, with actor/musician Andy García playing the trumpeter. "They had me as a consultant working with the scriptwriter, and I scored the music, so it accurately tells the story," he reports.
Sandoval says that García is a very good bongo player. "Lately I have been using him as a musician for sessions in the studio and he's been doing a wonderful job, man. He's got his own band, too." In fact, García plays on Sandoval's new album, Dear Diz (Every Day I Think of You).
Sandoval's colleague in the renowned '70s Afro-Cuban group Irakere, Chucho Valdés chose to remain in Cuba. The trumpeter points out with a sense of irony: "A lot of things have happened between the '70s and now, but I have fond memories of my days with Chucho and Paquito D'Rivera in Irakere. We put the band together and played together for seven years. We had good times."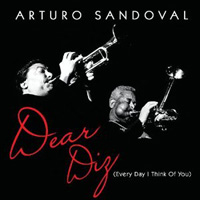 Dear Diz (Every Day I Think of You), which netted Sandoval his eighth Grammy Award (for Best Large Jazz Ensemble Album) earlier this year, is the latest in a long line of projects in which he has paid homage to Gillespie, who in the 1940s played a pivotal role with Charlie Parker in the development of bebop and modern jazz.
The album is a collection of classic works from Gillespie's colossal back catalog framed in big-band arrangements and showcasing Sandoval's "athletic playing", as Dizzy himself described his amigo's penchant for high-register, up-tempo runs. Swapping blows with Sandoval on the album that incorporates Gillespie standards such as 'Con Alma' and 'A Night in Tunisia' are some stellar co-lead players, including vibraphonist Gary Burton, tenor saxophonist Bob Mintzer and clarinetist Eddie Daniels.
Scheduled for release in the near future is a coffee table-style book, which Sandoval has helped to put together as another expression of his gratitude to Gillespie. According to its chief compiler, The Man Who Saved Me is a large collection of personal photos with caption stories.
Arturo Sandoval is effusive in his praise of the man who has so profoundly influenced his career. "I learned many things from Dizzy; he was very paternal to me. He never got tired of answering questions or teaching me or talking about music, about chords and progressions. He was a real music enthusiast and that was the best lesson I get from him, to have passion and be in love with what you do, which is a privilege and blessing from God." Sandoval says he truly thinks of Dizzy every day. He's even got a picture of the great man on the license plate of his car!
During the most animated part of the interview, Sandoval continued to wax lyrical about his mentor. "Dizzy was a unique player. He was very musical and not just on trumpet. He played piano very well too. He always mentioned the piano as being the basis of learning chords and learning music. That really makes a big influence in my way of thinking because since he mentioned that to me I've been playing or practicing the piano every single day. Everything I ever wrote came from the piano, not from trumpet." Sandoval makes a habit of playing at least one number on piano during his shows, although he says (with a laugh): "Sometimes when I play more, people complain —they say, 'stay with the trumpet'."
Another recent release that netted a Grammy Award for Sandoval (for best Latin album), the self-produced and independently released Tango Como Yo Te Siento, is also a tribute album of sorts. As its creator explains: "I made it as a tribute to my late father because he loved tango music. He wasn't very enthusiastic about music in general, but he knew all the lyrics and melodies of all the famous tango songs. I really had a lot of fun making that album. I went to Argentina and invited seven or eight of the main tango singers to be guests." The latter comment alludes to the likes of Maria Grana, Valeria Lynch, Julia Zenco, Fernando Soler, Guillermo Fernandez, Patricia Sosa and Raul Lavie. The set also included contributions from the acclaimed accordionist Nestor Marconi.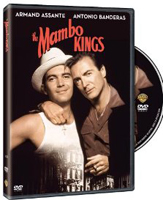 Arturo Sandoval's versatility and general love of music is reflected in recordings with everyone from jazz giants like Dizzy Gillespie, Woody Herman, Woody Shaw and Stan Getz to singers as diverse as Frank Sinatra, Paul Anka, Rod Stewart and Alicia Keys and guest appearances with some of the world's finest classical symphony orchestras. It also shows in Sandoval's movie scoring, a passion which prompted him to move to the outskirts of Los Angeles four years ago, "to be closer to Hollywood", after 20 years of residing in Miami. The trumpeter was Musical Director for 1992's The Mambo Kings, and helped score two editions of the blockbusting Pirates of the Caribbean series and the 2011 Oscar-winning animation feature Rango. His music is featured in the current box office smash The Lone Ranger, starring Johnny Depp.
Although he's well into his sixties, Sandoval shows no signs of slowing down. A particularly busy period in his career will see him touring continuously until late March of 2014. "I am working every day doing different projects," he imparts with relish on the eve of a second consecutive appearance at the annual George Gershwin Award nights at the White House (this year paying tribute to Carol King). When he's not performing with his sextet or his Los Angeles based big band or working on movies, Sandoval is producing albums for other people or himself. At the time of writing, he was mixing down a new album of his own devoted to Cuban bolero, the ballad style popularized around the world by the late Ibrahim Ferrer and other members of the Buena Vista Social Club.
Every day, no matter how crowded his schedule might be, Sandoval devotes time to practice, to ensure that his renowned technique remains in tip-top shape. "It's important to practice at any age, but as you get older of course you have to be extra careful. The trumpet is a very tough instrument. You can't take it easy, you have to be working every day and be very dedicated. I'm 64 and I feel more comfortable playing the trumpet now than before. I think I'm playing better than ever." A listen to his recent albums endorses the last statement.
"I'm a very happy man," avers Arturo Sandoval. There is no doubt part of his content stems from being the anointed keeper of the flame that Dizzy Gillespie ignited. Adopting the mantra and mantle of his mentor, he says: "My desire is to share my passion and love for music. My favorite joy is when I'm on stage and I'm sharing with the people that love for music; it's the best moment of my day."
• The above interview first appeared in Rhythms — Australia's only dedicated roots music magazine, for which the author is World/Folk correspondent.
Related story: Jazz Trumpeter Arturo Sandoval to Be Awarded Presidential Medal of Freedom By President Barack Obama
Author:
Tony Hillier
Tony Hillier is based in Cairns in far north Queensland, from where he has been actively involved in all areas of the music industry in Australia for the past 25 years, primarily as a journalist, writing for national publications such as the Weekend Australian and Rhythms magazine (for which he is World Music & Folk correspondent), and performing locally, nationally and internationally with the bands Kamerunga and Snake Gully. He has also presented and produced World Music and Folk music programs for ABC Far North, Port Douglas Radio and 4CCR-FM, netting a CBAA Best Specialist Music Program Award with the last-named for a documentary on flamenco. Before coming to Australia, he was a racing journalist of some repute in the UK, where he wrote a column for the London Evening Standard under the nom-de-plume of Ajax.