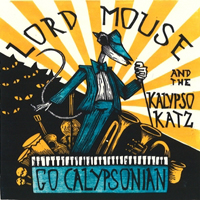 Lord Mouse and the Kalypso Katz – Go Calypsonian (Piranha Musik, 2013)
Kobo Town – Jumbie In The Jukebox (Stonetree / Cumbancha, 2013)
Like reggae, calypso is a world music sub-genre that was around long before world music itself was a coined term. And like reggae, it evolved, dubiously, into a more commercially successful but less authentic mutation. Reggae begat dancehall, calypso begat soca. Okay, one final comparison: as has been the case with reggae, artists based outside the music's Caribbean home territory have been instrumental in bringing calypso back to its roots.
A fixture on Berlin's live music scene for a few years, Lord Mouse and the Kalypso Katz are now bound to tickle many a calypso fancy on a wider scale with their debut release Go Calypsonian. They're a big band, 17 pieces strong when you factor in the horn section and the lovely ladies who sing and dance in accompaniment to the impeccably grooving Afro-Caribbean rhythm section, guitar, ukulele, and piano.
Spinning tales atop the sizzle is Lord Mouse himself, an American who found himself singing calypso in Germany through a set of odd but fortuitous circumstances. His low-pitched, slightly snarky croon is a great finishing touch to the music, which consists mostly of originals like the deliciously self-referential "White Boy Calypso" and such irresistible goodies as the oddly sensual "Snake Charmer," the obligatory unsubtle double entendre "Pussy Cat" and Latin-tinged "Chunga Changa."
A handy cover of the classic "Goombay Drum" salutes the originators, but these Katz mostly go their own way and do so with a panache that's sometimes as goofy as calypso can get. And that's a big part of what makes this album wonderful. Campy though it may be in spots, the music is unfailingly catchy and the vibe is one of ongoing feel-good fun.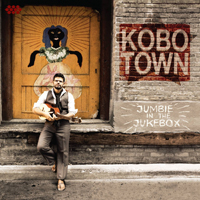 After the excellence of their 2007 release Independence, I was wondering when Toronto's Kobo Town would come out with a follow up. The time for wondering is now over and their new one is here to savor. Jumbie In The Jukebox was produced by Stonetree label founder Ivan Duran, a man who has done much to bring Garifuna music to the world and here applies his crisp, vital touch to Kobo Town's mix of calypso, reggae and contemporary wallop.
Kobo Town leader Drew Gonsalves was born in Trinidad and moved to Canada as a youth, but that transition does not seem to have diluted his feel for music that bumps and sways in a distinctly Caribbean manner. He knows how to blend humor and cheekiness with dead-serious concerns like mental illness ("Mr. Monday"), modern day fear mongering ("Joe the Paranoiac"), the indifference of the haves toward the have nots ("Postcard Poverty") and the inevitability of the end that awaits us all ("Tick Tock Goes the Clock"). And Gonsalves' vocal style, in which island inflections and commanding cadences meet, drives every sentiment home with a finesse that's never forced.
Recalling some of the more thoughtful calypso commentators of old and not forgetting to be fresh and danceable, the music on Jumbie In The Jukebox further cements Kobo Town's reputation as one of the very best calypso outfits currently on the scene.
Buy the albums in North America:
Go Calypsonian & Jumbie In The Jukebox
Author:
Tom Orr
Tom Orr is a California-based writer whose talent and mental stability are of an equally questionable nature. His hobbies include ignoring trends, striking dramatic poses in front of his ever-tolerant wife and watching helplessly as his kids surpass him in all desirable traits.