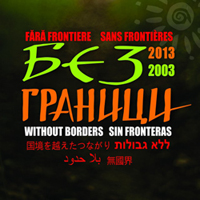 The Fourth Edition of the international art forum, ethno-art and world music festival WithoutBorders (FaraFrontiere) will take place September 9-15 at the "Albena" Resort Complex in (Bulgaria) and in the town of Mangalia, Romania.
The event is a production of the Industrial Association of Varna (Bulgaria) in partnership with the "Albena" Resort Complex, "Scenderman" Art Network and the "Luiza Cala" Art Gallery in Romania. This year, the festival will be located in a new venue with the purpose of enlarging and opening more access to Romanian and Bulgarian audiences as well as foreigners.
During "WithoutBorders" 2013, organizers are expecting 120 participants from 30 countries, from Europe and around the world.
The music showcase portion of the ethno/folk festival within the forum will take on the Black Sea coast between the 13th and 15th of September at the "Albena" Resort Complex.
The main event of "WithoutBorders" traditionally is the conference for cultural policy and arts management, including participation of festival organizers, specialists, managers and artists. This will happen between the 13th and 15th of September. The main topics of discussion will be intercultural dialog, networking, technological problems in ethno-folk area, the new European programs of funding, etc.
The concert program includes the following music groups and projects:
From Bulgaria:
Kayno Yesno Slonce – ethno ambient
Valeri Dimchev Group – traditional and contemporary folk
Ambient Folklore – ethno ambient
France:
Plantec – Breton folk and electronic music

USA/Turkey:
Latif Bolat – ethno Sufi, he is author of the soundtrack of the George Lucas TV series "Young Indiana Jones"

Sweden/Senegal/Mexico:
Ellika, Solo & Rafael Group
France/Bulgaria:
Ire Project – folk blues from the lands of Orpheus
Finland:
Trollfolk – folkrock and ethnopunk
Lithuania:
Marga Muzika – ethno / world music

Sweden/Slovenia:
Voices of the Strings

Malta:
Trania – ethno-jazz
Hungary:
Mentalis Majalis – ethno group
Fabula Rasa – ethno
More information at: http://scenderman.com
Author:
World Music Central News Department
World music news from the editors at World Music Central