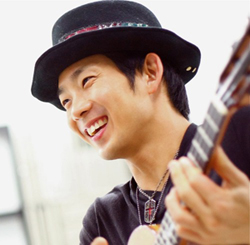 The late George Harrison would be dead chuffed to know that one of his finest songs shot a young ukulele star into the stratosphere. The Beatles guitar guru, who had a passion for the tiny Hawaiian instrument, would assuredly have dug Jake Shimabukuro's sublime interpretation of 'While My Guitar Gently Weeps'.
Five years after Harrison passed away, the young Hawaiian virtually single-handedly sparked a uke renaissance and a worldwide following for himself with a YouTube video of that song. The clip filmed in New York's Central Park went viral. Since being uploaded in April 2006, it has received a staggering 11,500,000 hits.
"I owe it all to that video," a humble Shimabukuro concedes down the line from Hawaii, adding: "It launched an entire touring career for me." 'The Quiet Beatle' was obviously keeping an eye on him from on high. "The whole reason I covered the song was because I was a huge George Harrison fan," says the affable prodigy. "I always felt a connection with him through the ukulele." 'While My Guitar Gently Weeps' remains Shimabukuro's favourite song to play. "I usually end my concerts with it," he reports, admitting that the way he performs it now is very different from the version that propelled him to worldwide fame. "Because it's the last song in the set, I have this 10-minute version — it has developed into this monster piece."
Shimabukuro's reputation as one of the world's hottest ukulele players has been forged on his renditions of cover songs such as 'Over The Rainbow' and 'Fields of Gold', which have become standards for the humble 4-stringed instrument. He nominates Queen's 'Bohemian Rhapsody' as technically the most challenging cover that he's tackled. "That was a really tough nut to crack. It caused a lot of sleepless nights and I was tempted to throw in the white towel. I'm glad I hung in there — that's how you grow and develop your skills as a player. The thing is I'm always tweaking it … every night I play the song I have a new idea for a section. I'll change the voicing on a chord just to add more color. 'Bohemian Rhapsody' is evolving so much, I wish I could go back in the studio and record it over again."
Another challenging piece, he relates, is Johann Sebastian Bach's 'Two Part invention No.13 in A minor', which he arranged, with difficulty, for a documentary on the iconic composer a few years ago. "I'm pretty stubborn; I won't give up on a piece. I'll keeping working on it and working on it until I get it right."
Although an orchestra and a rhythm section accompanied Shimabukuro on his latest album Grand Ukulele — an album produced by Englishman Alan Parsons, who worked on several Beatles LPs and Pink Floyd's Dark Side of the Moon — he says the numbers lend themselves to solo presentation.
"It was Alan's vision to have backing on the album — he thought it would be good to add some variety — but he wanted me to approach them the way I would if I were playing them solo. So after the record came out, playing the songs on my own seemed really natural because that was the original intent."
Shimabukuro has performed with some incredible players in recent years — Béla Fleck, Yo-Yo Ma, Chris Thile, Levon Helm, Marcus Miller and Stanley Clarke, to name but a few. "I never, ever dreamed that I'd be able to collaborate with them because they were my heroes and my inspiration when I was a kid. To be able to work with them at different levels just blows me away. A duets album with those guys would be extremely interesting. That would be a dream come true for me."
Jake Shimabukuro is surprised at just how popular the ukulele has become around the world in recent years. "I'm just so grateful that so many influential musicians are picking up ukulele — people that you wouldn't expect to play the instrument like Eddie Vedder, Taylor Swift and Paul McCartney. These people are definitely turning a whole new generation on to the ukulele." Modesty obviously stopped him from adding his name.
• The above interview first appeared in Rhythms — Australia's only dedicated roots music magazine, for which the author is World/Folk correspondent.
Author:
Tony Hillier
Tony Hillier is based in Cairns in far north Queensland, from where he has been actively involved in all areas of the music industry in Australia for the past 25 years, primarily as a journalist, writing for national publications such as the Weekend Australian and Rhythms magazine (for which he is World Music & Folk correspondent), and performing locally, nationally and internationally with the bands Kamerunga and Snake Gully. He has also presented and produced World Music and Folk music programs for ABC Far North, Port Douglas Radio and 4CCR-FM, netting a CBAA Best Specialist Music Program Award with the last-named for a documentary on flamenco. Before coming to Australia, he was a racing journalist of some repute in the UK, where he wrote a column for the London Evening Standard under the nom-de-plume of Ajax.