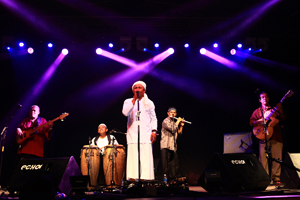 One of the most creative bands performing at the recent Rainforest World Music Festival in Kuching, Malaysia, was the Indonesian fusion group Rafly Wa Saja. The quartet was formed in 2010, and features a blend of Indonesian music in the Aceh language along with jazz, funk and flamenco-inspired guitar. The group's guitarist Agam Hamzah joins us in this exclusive interview on the band's formation, music styles and upcoming releases.

Q: What was the vision behind founding of your music group, and the name of your group?
The name of the group is Rafly wa SAJA, taken from the name of Rafly (on vocals), wa meaning is, and S=Saat (on suling flute), A= Adi (on bass), J= Jalu (on percussion), A= Agam (on guitar)! The vision of this group is unity of diversity in Indonesian music and culture, and across the world.
All members of our band are from different places and cultures: Saat is from Kalimantan, Adi from Madura, Jalu from West Java (Banten), Rafly from Aceh, and Agam is a mix of Aceh and Sundanese (west Java) but lived long in Bandung (capital of west Java). Rafly stays in Banda Aceh, and the rest of us stay in Jakarta!
Q: Who would you say are the leading influences in your musical career?
John MacLaughlin from Mahavishnu Orchestra, and Shakti.
Q: What music influences did your family have? What music did your parents listen to, and what music did they encourage or forbid you to play?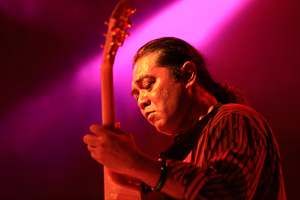 My grandfather is a Sundanese traditional artist, but the first form of music that interested me was jazz, introduced to me by my uncle. My parents forbade me from playing guitar because they did not want it to disturb my college program!
Q: How do you blend different musical influences and genres in your music?
My basic idea in music is rhythm. And everything in my musical work comes from the playful spirit and not from the written idea. I feel there are similarities in the spirit of rhythm between jazz, African, Indian and Indonesian music. Some tunes are simple but essential, and others more complex.
Q: Tell us about the more unusual instruments you have in your ensemble.
Sundanese percussion (kendang), Borneo bamboo flute, and the snake flute made from PVC — originally made by Saat himself!

Q: What is the profile of some of the artistes in your band? How did you all meet?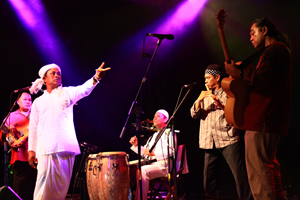 We got to know each other around early 2000, but decided to make a group only later, in 2010. Rafly is a very famous singer and has a big audience in Aceh. Adi Darmawan is well known as a professional bass player, composer and arranger. His degree is from the Music Conservatorium of Jogjakarta. Jalu one of the best kendang players, and has composed music for the kendang and other instruments. His degree is from the Jakarta Music College.
Saat is a master of the Borneo bamboo flute, a professional player in all genres of music (classical, jazz, pop). He learned the basic suling technique from his father, and then learnt everything in music just by himself with no textbook. He is a very natural musician.
I began as a professional guitar player around the 1980s. I learnt guitar and music from some local guitarists and music masters. I have no formal degree; I just studied via private courses and music workshop.
Q: How would you describe your musical journey and how your albums have evolved and changed over the years?
I love all kinds of guitar music, especially jazz, blues, flamenco, and world music. I was growing up with the fusion trend in music. The first fusion guitar hero recording which made me totally live in music was Electric Dream (Mahavishnu Orchestra 1979) with band leader and guitarist John MacLaughlin. That music is solid with a variety of different idioms, and penetrates various dimensions. Honestly, I have been just following what John Mc Laughlin did in Mahavishnu Orchestra and Shakti.
I have been much involved with various musical works, but just released my original music album with my trio LIGRO (electric jazz-rock with batak ethnic drum percussion) in 2008. LIGRO release two albums named Dictionary 1 and Dictionary 2 (2011). This year LIGRO is looking to record its third album for release.
Co-founding Rafly wa Saja for me is to realise my love for world music. It is like making a group on the lines of Shakti. We collaborate with a variety of ethnic Indonesian music along with music idioms from West. Though this group was established in 2010, we have not yet released an album; we hope this year we will have an investor for releasing an album.
Q: What kinds of social and political messages have been conveyed in your recent albums?
Human equality; peace against war and racism; and environmental sustainability. It is not just the regular music business!
Q: How does your composition process work – through a main songwriter, or through collaboration and jams between your band members?
Rafly wa Saja's tunes have the lead vocals from Rafly's songs, and then we work together on a music arrangement. The instrumentalists also collaborate among themselves.
Q: There are always heated debates in the music field between 'purists' and fusion aficionados. What are your thoughts on blending music of different genres?
Many musical actors in this new century realize that creativity in any form cannot be blocked. But I also understand what the purists mean when they complain about some fusion aficionados who do musical works without thorough consideration, understanding and respect for the originals.

Q: What have been your previous highlights in playing across Asia and other parts of the world?
The Rainforest World Music Festival is the first international showcase for Rafly wa Saja, but each member of the band has a lot experience with international gigs independently. I have been working for the Krakatau Band, an Indonesian world music band which blends Sundanese gamelan and jazz; we were on a European tour in 2006.
Q: Do you also teach workshops for students and musicians?
Yes, I have been a regular instructor guitar in the Farabi Music Course (Jakarta) since 1999, and teach workshops for some music colleges in Indonesia.
Q: What new album or video are you working on now?
I hope this year Rafly wa Saja will finish and release a new album. Adi (bassist) and I have finished our third album and DVD concert of LIGRO, and will soon send it to you!
Author:
Madanmohan Rao
Madanmohan Rao is an author and media consultant from Bangalore, and global correspondent for world music and jazz for World Music Central and Jazzuality. He has written over 15 books on media, management and culture, and is research director for YourStory Media. Madan was formerly World Music Editor at Rave magazine and RJ at WorldSpace, and can be followed on Twitter at @MadanRao.