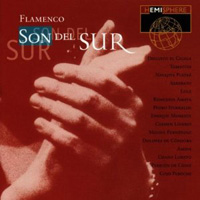 Various
Flamenco: Son del Sur (EMI Hemisphere, 1998)
This is a pretty compilation of flamenco music by Hemisphere, though some of the tracks have a 'pop' feel and the sequencing could have been much better. The 15 tracks make for almost an hour of fine evening listening. Our favorite track is the upbeat Arrebato's Tu Y Yo, and we also recommend Tomatito's Alejandria with its fine vocals and guitar riffs.
Other artists who stand out in this compilation are Amina and Pepe Habichuela. In sum, a good introduction to contemporary flamenco music, though there are better compilations which transport you to the magical gypsy worlds of southern Spain.
Author:
Madanmohan Rao
Madanmohan Rao is an author and media consultant from Bangalore, and global correspondent for world music and jazz for World Music Central and Jazzuality. He has written over 15 books on media, management and culture, and is research director for YourStory Media. Madan was formerly World Music Editor at Rave magazine and RJ at WorldSpace, and can be followed on Twitter at @MadanRao.