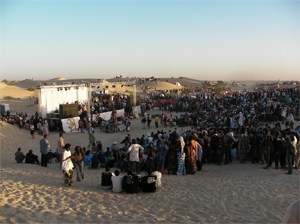 World music expo WOMEX announced today the winner of the 2013 Professional Excellence Award. The award goes to Mali's famed Festival in the Desert (Festival au Désert). Manny Ansar (Mali) will receive the Award on behalf of the festival on Sunday morning, October 27, 2013, at the WOMEX Award Ceremony, accompanied by a WOMEX Networking Breakfast, both open only to WOMEX delegates. The laudation will be provided by the freelance writer and journalist Andy Morgan (UK).
Festival in the Desert was born twelve years ago in the deserts of northern Mali. It offered an opportunity to discover the previously hidden desert culture. Since then, the Festival au Désert has found a permanent home in an area of white dunes west of Timbuktu and turned it into a place where the desert can meet the world in friendship and safety and parade its beauty, its pride, its musical and human wealth. The festival was affected by the outbreak of civil war in Mali in January 2012. The festival was postponed indefinitely.
There will also be a chance to meet the winner of the WOMEX 2013 Professional Excellence Award in a special Conference Session at this year's WOMEX Conference, in which Andy Morgan will interview Manny Ansar as a representative of Festival au Désert.
Author:
World Music Central News Department
World music news from the editors at World Music Central